Think Zeppelin, Ferris wheel, Stetson, Mae West,
Amelia's bloomers, the Rorschach Test.


Some orphan object still lack a name?  Name it for me.
True, the best of the lot have been claimed.  Clerihew:
the dipodic quatrain. And that vague shade of blue—
Yves Klein beat me to. The smile belongs to Mona Lisa,
Bowler's the hat, Graham for the cracker, the flower Poinsett.


Melba's for peaches, Alfredo, fettuccini. Anything edible
is bound to agree with me. Name me for a cocktail,
but not for a Molotov, and I think I'll shun Derringer,
Gatling , Kalashnikov. But if a bird, a star, a lipstick,
a wine requires a name, please feel free—use mine.


© by Diana Anhalt.
Used with the author's permission.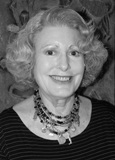 A former resident of Mexico City, Diana Anhalt moved to Atlanta, GA three years ago and since then all she's been able to write about is Mexico. (This poem is the rare exception.) She is the author of A Gathering of Fugitives: American Political Expatriates in Mexico 1947-1965 (Archer Books), two chapbooks, and essays, short stories and book reviews in both English and Spanish. Her third chapbook, Lives of Straw, is forthcoming from Finishing Line Press.
JudythHill:
Wonderful, Diana! How about a phase of the moon for you? Or a gorgeous blue flower that grows only here in San Miguel?!
Posted 10/07/2013 10:31 AM
Dorcas:
Clever indeed, although not relaxing. Drink up!
Posted 10/06/2013 07:11 AM
Jill H.:
Jill: I love it! Remember when my roof caught on fire, and you arrived all dressed for a party with your long scarf to beat out the flames? A Diana!
Posted 10/02/2013 06:26 PM
Carlita:
Very witty and original, just like the author! And I had no idea either of the Ferris in Ferris wheel ....
Posted 10/02/2013 05:12 PM
Larry Schug:
Nice, nice nice poem. Rhythm and flow, way to go, the words of your choice are a reason to rejoice. Let's call fun poems "Anhalts", at least for today.
Posted 10/02/2013 12:27 PM
wendy morton:
I'll take a bird, a star or a lipstick too. Wonderful!!!
Posted 10/02/2013 10:00 AM
rtaylor947@aol.com:
Not just fun and clever, but erudite. I love it when a poet does research.
Posted 10/02/2013 08:18 AM
Wilda Morris:
How clever, Diana! My favorite poem of yours (thus far!) is "Forewarned." Whenever I find your name attached to a poem, I'll be reading it!
Posted 10/02/2013 07:37 AM
Ross Kightly:
Sounds to me that an Anhalt is the smile of appreciation displayed by a reader of this poem - I have a Big Anhalt now! Well done, loved it!
Posted 10/02/2013 06:36 AM
paula:
What a great subject--so original!
Posted 10/02/2013 06:12 AM
erinsnana:
This is very clever...and I learned something!
Posted 10/02/2013 05:40 AM