of my property
stood an old redwood fence.
I was young when it was new,
set a vase of flowers there
next to the hors d'oeuvre
for a garden party. The vase
disappeared, somehow, into the ivy.

Over time, other artifacts were added—
one zorry wildly flung from
running in backyard merriment
many lime green tennis balls
fetched by the dog
my son's Texaco Fire Engine
a mason jar for fire flies
some electric wire spools
left by workmen when a transformer
blew, bits of barbed wire found on a hike.

The ivy grew, weaving up, over
around and through.
When the children left home
the fence was a wall of green protection
like a cemetery centaur . . . and then . . .
the wind blew it all down.

A new fence replaced the old
and beneath the leaf mulch
I found the vase, the rusted truck,
and one hairless blackened tennis ball.
© by
Ann Privateer.
Used with the author's permission
.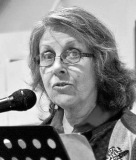 Ann Privateer grew up in Cleveland, Ohio, spent some time in Los Angeles and Paris and now lives in Davis, California. She says she started writing poetry as a way to deal with "difficulties" in her life. Retired from teaching, Ann now enjoys gardening and painting in addition to poetry.
andrea.madera:
This poem reminds me of my own backyard. Very nostalgic I enjoyed it.
Posted 10/22/2013 04:12 PM
Ross Kightly:
Somebody said something like 'Anyone can come up with a good beginning to a poem, but the real art is finding the killer conclusion.' This is the Real McCoy. And one thing out of those two final lines that I like even most is: there's no fear of the telling adjective: the vase is just the vase, the truck is 'rusted' but it has to be the 'hairless blackened tennis ball' Splendidly evocative of decay and pathos, but this is some of the 'lost' stuff that never really is as long as we can remember it! Thank you Ann.
Posted 10/22/2013 02:30 PM
paradea:
Good poem.
Posted 10/22/2013 11:24 AM
tannerlynne:
Ah yes!
Posted 10/22/2013 11:18 AM
KevinArnold:
Yes, a mason jar for fireflies. A lot of work in five words.
Posted 10/22/2013 09:22 AM
TheSilverOne:
Finding what was lost in different form at a different time...memories come flooding back. Loved this poem.
Posted 10/22/2013 08:54 AM
Carol Hauer:
This poem took me out into the farthest reaches of your yard. It must be a delightful place with ivy hiding all of those treasures.
Posted 10/22/2013 08:14 AM
dotief@comcast.net:
Very nice start for my day!
Posted 10/22/2013 07:52 AM
gretchenfriel:
Thanks Ann for that beautiful reminder...we had some plastic army men underneath the peonies for a decade or so until my husband transplanted the flowers. I brought the little soldiers inside.
Posted 10/22/2013 07:14 AM