December – the remains of the summer garden,
stalks of sea-lavender lined with tiny blossoms,
half fresh, half wasted – among them a hummingbird
in a glistening green vest. Such hard work
this late harvesting, this hanging between fierce
wingbeats before each tiny blue bowl, long tongue
scraping out the last drops of the old year.
Twenty feet away is the feeder I fill faithfully
every few days – one part sugar to four parts water.
I know he knows it's there. I've seen him grip the red
plastic rail and dip his beak again, again, watched
the surface of my offering ripple with his sipping.
Today he rejects my sugar water for flowers almost straw.
Some mornings one just wants the real thing.
© by Nils Peterson.

Used with the author's permission.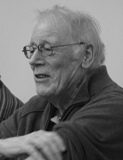 Nils Peterson is Professor Emeritus at San Jose State University.  In 2009, he was chosen the first Poet Laureate of Santa Clara County. He has published poetry, science fiction, and articles on subjects as varied as golf and Shakespeare. His work was most recently featured in a collection of poetry by fellow poets laureate of Santa Clara County entitled Local Habitations.
lisa honecker:
Nils, Habit, Habitat, all the best. Can easily see why you are a Poet Laureate. Reminds me of the Pinsky poem about the cardinals at the feeder. I think it is Robert Pinsky. Best to you. Lisa Honecker, NJ
Posted 12/08/2013 05:38 PM
plgoodman:
You've enchanted me, Nils, and that doesn't happen easily. Lovely!
Posted 12/07/2013 05:44 PM
Judith Heron:
'this hanging between fierce wingbeats'...'for flowers almost straw'...the drive of winter is in us all. Strong and necessary poem, Nils. A joy.
Posted 12/07/2013 11:40 AM
Rogers:
Lovely poem, Nils. Especially the last line!
Posted 12/07/2013 11:24 AM
njc:
...scraping out the last drops of the old year...nice!
Posted 12/07/2013 09:44 AM
laurasalas:
This is amazing--one of my favorites to have read here over the past couple of years. Thank you!
Posted 12/07/2013 09:26 AM
KevinArnold:
Ah, the peripatetic hummingbird, hankering for the real thing. Thank you, Nils!
Posted 12/07/2013 09:09 AM
Sherry:
What a superb poem! Thank you Nils. Thank you Jayne for helping me to discover another great writer!
Posted 12/07/2013 08:41 AM
blueskies:
A pure delight! A thought-form that so resonates: the real thing.
Posted 12/07/2013 07:39 AM