I look at his eager face, Father,
eyes sparkling,
lips spread in a smile that stretches
from one spaghetti-streaked cheek
to the other,
and I wonder what
life holds for him.
Will he be a Harvard boy, as Daddy hopes,
or a brilliant playwright (as Mom secretly wishes)?
Will he marry? Father children?
Be wealthy? Reclusive? Renowned?
So much lies ahead,
so many crossroads and currents
and conflicts.
Keep a watchful eye
on my little one, Lord.
Help me find the right paths
down which to send him,
say the right words to inspire him,
pray the right prayers to advise him.
Because whether he's a poet or a plumber
or a paratrooper or a priest,
he'll still need direction
from us both.
From A New Mother's Prayers (Pocket Books, 1989 and 1996, and Loyola Press, 2004).
Used here with the author's permission.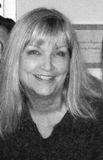 Jayne Jaudon Ferrer is the author of four books of poetry and a nonfiction books about games. A public relations specialist and freelance journalist, Ferrer speaks frequently at chuches, schools, and writing-related events. Her work has appeared in hundreds of publications, ranging from Boca Raton Magazine to Christian Parenting Today, and she is the founder and editor of YourDailyPoem.com. Originally from Florida, Jayne now lives in Greenville, South Carolina. The mother of three sons, she enjoys reading, music, old movies, and good conversation. Learn more about Jayne at www.jaynejaudonferrer.com.
Wilda Morris:
Yes, the perfect prayer for a parent to pray. Sorry I missed this when you published it!
Posted 01/14/2014 02:04 PM
jayne:
Thanks for all your lovely comments. Those parental (and grandparental!) connections hold fast no matter how old our babies get!
Posted 01/09/2014 07:39 PM
Jo:
Just got to your poem today, Jayne, and not only is it a lovely prayer/poem, I can vouch for the terrific programmer who keeps my website up and running.
Posted 01/07/2014 09:18 PM
Eiken:
Jayne, my boy is 31 and my daughter 29 and at Christmas with everyone home around the table I gave thanks for the beautiful children I have been blessed with and a great husband too. So good to be blessed with such wonders :) Maire in Ireland xxx
Posted 01/07/2014 03:37 PM
ldkulp:
Jayne- As a mother of two grown sons, I connected with this poem because like most mothers, I've prayed for the same. So beautifully written! Thank you!
Posted 01/07/2014 02:52 PM
Joe Sottile:
That is a superb poem! Bravo! Bravo! Jayne, you say so much in capsule form. This deeply touches your truly grandfather of five emerging adults.
Posted 01/07/2014 02:29 PM
nldahl3:
I also recently turned 30 and keep asking, "How did I get here?" I also just had a little boy, so this touches my heart in many ways.
Posted 01/07/2014 12:57 PM
peninsulapoet:
You have touched my heart. I, too, have three sons. The hopes and love for them is endless, no matter how much time passes. Donna
Posted 01/07/2014 11:06 AM
wendy morton:
Your son, no matter what he does, is a poet, like you.
Posted 01/07/2014 10:27 AM
gretchenfriel:
Very appropriate Jayne, my son just got engaged over the holidays! Seems I just washed that spaghetti face...
Posted 01/07/2014 10:05 AM
TheSilverOne:
We look at our children and see the face of the future, then hope and pray. This expresses it so beautifully! ~~~Doris
Posted 01/07/2014 10:01 AM
chris schulz:
Love the lines..."so much lies ahead, so many crossroads and currents and conflicts". A family heirloom, thank you!!!
Posted 01/07/2014 09:54 AM
erinsnana:
I love this!
Posted 01/07/2014 09:20 AM
KevinArnold:
I'm with Katrina: yep!
Posted 01/07/2014 09:18 AM
CamilleBalla:
What a beautiful prayer poem about your son, John ~ and so nice to know that he is behind the scenes -- or that his work is actually on the scene -- our computer screens! I will be sharing your poem with my son,John, who will celebrate his 50th in a few days. Thank you so much, Jayne, for sharing this wonderful poem with us!! AND, thank you, John, for your great job with YDP -- Happy Birthday!!
Posted 01/07/2014 09:10 AM
Judith Heron:
Oh, the eternal prayers of motherhood. Even when they stand eye to eye or tower above us in every way we can still be brought to our knees. Thank you, Jayne.
Posted 01/07/2014 08:50 AM
barbara eknoian:
What so many moms may be thinking, but you were able to express your feelings beautifully.
Posted 01/07/2014 08:40 AM
mimi:
lovely, Jayne, and so very true...
Posted 01/07/2014 08:33 AM
Sherry:
Nice job, Jayne.
Posted 01/07/2014 08:30 AM
vscholtz:
Congratulations, Mom. Isn't it great to watch our children grow.
Posted 01/07/2014 07:59 AM
Barry:
Happy birthday, John, and thanks for helping with YDP. I love this site.
Posted 01/07/2014 07:47 AM
Charly:
Oh, yes..a mother's dreams. Lovely poem that I so relate to!
Posted 01/07/2014 07:09 AM
laurasalas:
What a lovely prayer, Jayne! I especially love the last four lines.
Posted 01/07/2014 05:40 AM
gigi:
—and a very talented young man he is, helping you through these talents to bring poetry to all of us every day. It's obvious that your direction worked. Happy birthday to him—and to you.
Posted 01/07/2014 05:20 AM
Katrina:
Yep!
Posted 01/07/2014 04:07 AM