We are having morning coffee.
Slight turns, shifts in posture.
I do not need my eyes to know yours
Are rising over the rims of your glasses,
Bringing morning's light to me.
With your never drifting smile,
You declare, "Well, we did it."
"Did what?" I ask, turning to you.
"We set out to grow old together and we have," you say.
I lean in from my right, you from your left
Erasing the air with our lips.
You return to your Sudoku,
From
Driving Home
(Aldrich Press, 2013).
Used here with the author's permission.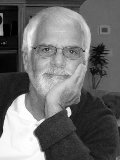 Jim Gustafson says, "Though I am old and 'wear the bottom of my trousers rolled,' I am a student in the MFA program at the University of Tampa." After a career as a clergyman and, later, a radio station manager, Jim is now focused on writing. His first book of poems, Driving Home, was released by Aldrich Press in January, 2013. Jim lives in Fort Myers, Florida; learn more about him at www.jimgustafson.com.
Buckner14:
Lots of feeling, but no sentimentality. Thank you for sharing!
Posted 02/14/2014 12:43 PM
Dorcas:
Very sweet.
Posted 02/14/2014 11:01 AM
plgoodman:
So simple, so true. You've nailed it, Jim. Wish we were all so lucky...
Posted 02/14/2014 10:44 AM
ldkulp:
I love real-life love poems like this one! It's what love is really all about!
Posted 02/14/2014 09:15 AM
Jo:
Just lovely. He is reading his paper here, I am reading your poem. Now I will show him your poem. And we will erase the air as you and your wife did. thank you.
Posted 02/14/2014 08:55 AM
TheSilverOne:
Beautiful! I wish....I wish...
Posted 02/14/2014 08:12 AM
gailcomorat:
Just lovely, Jim!
Posted 02/14/2014 06:52 AM
JanetruthMartin:
This is as good as it gets!
Posted 02/14/2014 06:27 AM