I walked Graysontown Road with my son
and the river fog was strung into the sycamores.
It made us silent and hidden near the cries
of wood ducks hunkered against driftwood.

Coltsfoot was still blooming. One flower stalk
had stretched through a crack in the pavement.
Its yellow flower fit the gray fog and a moth
tooling down into it for nectar.

We listened. A tractor cranked
on an invisible hill, and echoed into the river.
There were spring peepers everywhere in a marsh
calling the fog and all the waters their heaven.
†
© by Clyde Kessler.†
Used with the authorís permission.
†
†
†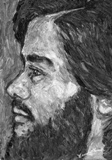 Clyde Kessler's poems have appeared in a number of publications including†Now and Then, Cortland Review, Silver Blade, and†Sugar Mule. He lives in Radford, Virginia, in a house that is filled with paintings created by his wife, Kendall, in a studio built by his father and brother. A†founding member of the Blue Ridge Discovery Center, an environmental education organization with programs in southwestern Virginia and western North Carolina, Clyde†enjoys hiking and riding farm roads with his son, Alan.
†
†
Dorcas:
Heaven in a fog. I love it.
Posted 04/19/2014 02:16 AM
Ginny C.:
Beautiful poem; love the precise observations and how they all contribute to the tone of the poem.
Posted 04/16/2014 10:39 AM
paradea:
Spring peepers are so comforting to hear. I love the scene set by this poem. Thank you, Clyde.
Posted 04/16/2014 08:52 AM
TheSilverOne:
This is the beautiful Spring I'm longing for, as I look out and see snow.
Posted 04/16/2014 07:29 AM
mimi:
a treat for all the winter-weary senses...lovely
Posted 04/16/2014 07:29 AM
fer:
Oh, I love "the river fog was strung into the sycamores." Thanks, Clyde and Jayne.
Posted 04/16/2014 06:05 AM