A delicate fabric of bird song 
Floats in the air, 
The smell of wet wild earth 
Is everywhere. 

Red small leaves of the maple 
Are clenched like a hand, 
Like girls at their first communion 
The pear trees stand. 

Oh I must pass nothing by 
Without loving it much, 
The raindrop try with my lips, 
The grass with my touch; 

For how can I be sure 
I shall see again 
The world on the first of May 
Shining after the rain?
This poem is in the public domain.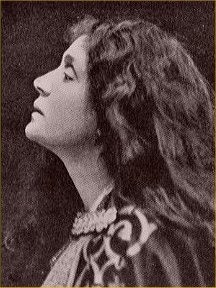 Sara Teasdale (1884 - 1933) was a Missouri-born poet afflicted with poor health from birth. She loved one man but married another, divorced, lost her best friend to suicide, and eventually committed suicide herself. Ironically, a majority of her poems are about love and beauty, and she won the first Pulitzer Prize for poetry in 1918. There are some similarities to be drawn between Sara and Emily Dickinson; both were reclusive, both wrote intensely personal poetry that frequently focused on nature, both knew unrequited love.
Dorcas:
How lovely. Each May 1st, as we honor the May pole is so different each year and is to be treasured. Life is short. I shall observe my May day and yours.
Posted 05/01/2014 12:49 PM
anne.lehman2929@att.net:
Sara Teasdale is one of my favorite poets, thank you.
Posted 05/01/2014 10:36 AM
Barry:
Thanks, Jayne!! Great poem
Posted 05/01/2014 08:06 AM
Ross Kightly:
Thank you, Jayne, for a new discovery - I don't remember coming across this poet before but I shall certainly be doing some following-up. Nothing like a bit of low-pitched lamentation about lost love etc. But this one is a bit of a gem, as you say. Pass nothing without giving it a kiss, nice thought!
Posted 05/01/2014 02:03 AM