barely perturb its placidity.
when a bass slaps the surface
the snapping turtles waddle,
on the prowl for provender.
reconnoiter pond's depths,
seconds later surfacing quietly,
snub noses first, nudging air,
I stand there on dock's end,
© by Jerome L. Wyant. 
Used with the author's permission.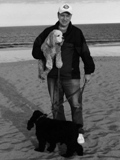 Jerome L. Wyant is a lecturer in Creative Writing at SUNY-Albany. Published in many journals, his current project is a long poem about divorce and its consequences. Jerome lives in New Windsor, NY, with his two beautiful cocker spaniels. This summer, he plans to enjoying Vermont, write more poetry and fly-fish in the Battenkill River.
Larry Schug:
Thanks for a nice poem from Terrapin Station (the pond in our back yard).
Posted 05/20/2014 11:03 AM
gretchenfriel:
I, too, watched pond battles in my childhood, ha, ha. Suddenly, I am in a rowboat, perhaps a salamander race later in the day! Thanks Jerome :)
Posted 05/20/2014 08:49 AM
paula:
Great opening. Vivid description.
Posted 05/20/2014 05:58 AM
rhonasheridan:
Perfect descriptions that are also lovely. Such an enjoyable poem.
Posted 05/20/2014 02:03 AM