You may labor your fill, friend of mine, if you will;
    You may worry a bit, if you must;
You may treat your affairs as a series of cares,
    You may live on a scrap and a crust;
But when the day's done, put it out of your head;
Don't take your troubles to bed.

You may batter your way through the thick of the fray,
    You may sweat, you may swear, you may grunt;
You may be a jack-fool if you must, but this rule
    Should ever be kept at the front: —
Don't fight with your pillow, but lay down your head
And kick every worriment out of the bed.

That friend or that foe (which he is, I don't know),
    Whose name we have spoken as Death,
Hovers close to your side, while you run or you ride,
    And he envies the warmth of your breath;
But he turns him away, with a shake of his head,
When he finds that you don't take your troubles to bed.

This poem is in the public domain.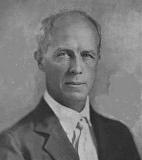 Edmund Vance Cooke (1866 - 1932), often referred to as "the poet laureate of childhood," was born in 1866, in Ontario, Canada. He began working at the White Sewing Machine Co. factory as a teenager and stayed there for 14 years, until he became a self-employed poet and lecturer in 1893. His first book of poems, A Patch of Pansies, came out the next year. Edmund is a fine and highly entertaining poet whom many critics consider underrated; he published sixteen collections of poetry during the course of his career, plus many children's books.
gatoblanco:
I like the suddenly sinister turn---"and he envies the warmth of your breath."
Posted 06/12/2015 11:56 AM
transitions:
Yes, great 'poetic' advice. Wish I knew how to do that!
Posted 06/11/2015 04:39 PM
mjs.ontheroad@gmail.com:
Lovely poem and such great advice!
Posted 06/11/2015 11:27 AM
Wilda Morris:
Great advice!
Posted 06/11/2015 09:04 AM
KevinArnold:
Great couplet: Don't fight with your pillow, but lay down your head / And kick every worriment out of the bed. It makes me re-think my ideas of creativity, which encourage reaping the benefits of subconscious thoughts at night.
Posted 06/11/2015 08:33 AM
cork:
It's not often we see internal rhyme except with Poe. I'll sleep better now.
Posted 06/11/2015 08:32 AM
paradea:
Let it go, let it gooooo!!!
Posted 06/11/2015 08:25 AM
Supa:
Just wonderful, now if I could just figure out how to follow that advice. Anyway the poem is great fun.
Posted 06/11/2015 05:32 AM