for Catherine
We called it
Scaling the Delaware
how we'd lie
on our stomachs
in the shallow
summer river
face upstream
and let the current
troll our bodies
out behind us
like flags
flapping
in our wake.
the silty bed
with bare fingers
for fissures
in the shale
fit to grip
and pull ourselves up
against the flow
climb
a horizontal waterfall
sky steep
at our backs
wind skiing
through our hair.
at the peak
Milford
New Jersey
bluffs
and a gristmill
and a green bridge
spanning the water
like a finish line
with a gas station
on the PA side
though it was not
for either end
that we climbed
water
but for the avalanche
of sunlight
splashing toward us
and for the sheer
shad of it
together
against the rush
and tug of a river
going the other way.
© by John Smith.
Used with the author's permission.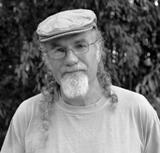 John Smith is a retired high school English teacher whose work has appeared in NJ Audubon since the 1980s and in numerous other literary magazines and anthologies. His poem, "Lived Like a Saint," was set to music by Philadelphia composer Tina Davidson, as part of a choral work, "Listening to the Earth," commissioned by the New Jersey Parks Commission. Another poem, "Birding," was commissioned by New Jersey Audubon for their centennial. In addition to poetry, John enjoys writing, cooking, gardening, and keeping an eye on the birds.
Wilda Morris:
"The avalanche / of sunlight" - just one of the lovely expressions in this fine poem. If children did that today, would their parents be arrested for child endangerment? It sounds like a marvelous way for a young person to live in the world.
Posted 07/06/2015 09:59 AM
rhonasheridan:
I climbed water - wonderful. Shad? Super poem. Loved it.
Posted 07/06/2015 01:26 AM
barbsteff:
Very sly poem!
Posted 07/05/2015 09:47 PM
John:
The shad is a fish that swims up the Delaware at a certain time of year. What a fine poem, its skinny lines outlining the swimmer's body.
Posted 07/05/2015 10:11 AM
jayne:
"Shad" is also an urban term for "bravery," I think. Enlighten us, John.
Posted 07/05/2015 07:46 AM
phebe.davidson@gmail.com:
Tremendously evocative! (enough to make me homesick--for my own earlier years, for Jersey, for the adults who used to rave about shad roe--and for Jersey itself). The NJ Parks Commission and Audubon have chosen well indeed!
Posted 07/05/2015 06:16 AM
Supa:
Beautiful descriptive poem, but what is shad? As in shad of it?
Posted 07/05/2015 02:14 AM