The root stirs
and the petal cannot hold back its flare.
The sun is a flower,
we're sucked into its core,
bees of the universe.
Nothing is perfect
yet if one of us could be
as perfect as the poppy,
who would need more than
three days to bloom?
© by Grace Marie Grafton.
Used with the author's permission.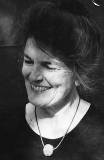 Grace Marie Grafton has taught students in grades 1-5 to appreciate and write poetry for over thirty years, as a poet and teacher active in the California Poets In the Schools organization. Her goal has been to support and develop the natural fascination with language of the young child and to encourage what she believes is an inborn love of poetry before it's "rationalized" out of most of us by about nine years of age. Grace's own poems have appeared in hundreds of literary magazines, and she is the author of six books of poems, the most recent being Jester. Her inspiration springs from nature, art and the poetry of others, and she loves flowers, walking in the woods, listening to birds, and having grandchildren, so these subjects frequently end up in her poems. "For me," says Grace, "poetry is a vital way of maintaining the intimate connection of mind and heart." Raised in California's Central Valley, she now lives in the San Francisco Bay area with her husband and extended family.
Tobey Hiller:
Lovely poem! Tobey Hiller
Posted 07/18/2015 11:19 PM
transitions:
Bloom while you can...3 days is a lifetime to some while to others 3 thousand is not enough~
Posted 07/18/2015 10:02 PM
gail entrekin:
I love the metaphor. I just wish we were being better bees. But terrific poem.
Posted 07/18/2015 05:55 PM
KevinArnold:
The title is a one-word poem by itself.
Posted 07/18/2015 08:14 AM
paradea:
Beautiful poem!!
Posted 07/18/2015 07:42 AM