I sat fanning book pages, making Little Sally Mandy
hurry Chaplin-like, lost in the woods; then magically
brought out at storyís end by sleight of hand.

My Viewmaster urged me into other woods,
3-D making me believe I could go deeper
than where the woodcutter took Hansel and his sister;
leave no trail of crumbs, build a gingerbread house,
eat it room by room.

Nights ran in a Crazy Man game, crouched in bushes
while the neighbor boy played at evil, bellowing
when he captured us, locked the tool shed door,
no mercy from his tickling.

Khrushchev beat his shoe, declared we will bury you.
I tried to dig a bomb shelter in baked red dirt,
unearthed a black spider mere inches down. Ran
through clean wet sheets, streaked them red
as Russians, bent my motherís clothespin bag
for no good reason, she said.
†
© by†Patricia Killian Deaton.
Used with the authorís permission.
†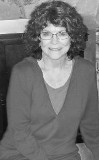 Patricia Killian Deaton is a native of the foothills of†North Carolina whose poetry, fiction, and nonfiction has been published in a variety of magazines and anthologies. Currently, she has a finished novel . . . just sitting there on her computer. Patricia recently bought and remodeled the first floor of an old community store building with two apartments above her, in the historic small town of Valdese, North Carolina. †She says she has discovered that "being a landlord will make you mean or, at the very least, assertive.Ē
†
karenpaulholmes:
yes, memories!
Posted 08/10/2015 07:20 PM
Lori Levy:
I especially like the last stanza!
Posted 08/10/2015 11:17 AM