Children chasing gulls
As if they might ever land
Strong wind comes ashore
 
My boy brings me shells
Proof of this wonderful world
Grey whorl in his hand
 
Men build sand castles
Children catch enormous waves
Sand crabs cannot hide
 
Old man boogie boards
Salt water in his grey beard
Schooling the young ones
 
Next wave is bigger
We wait to ride it to shore
Breakers all around
 
So much eye candy
Bare chested men body surf
Wash up at my feet
 
Shoreline erosion
I was here once, years ago
Nothing stays the same
 
Sunset cruise, dolphins
Jump sleepily off the bow
Surfer Dude patrols
 
The night takes us in
We can finally exhale
As the summer ends
 
A glistening sun
Reflects an August Friday
Almost back to school
 
Watching the boys surf
The waves lift them like small birds
Twittering with joy
 
© by Janice Schuster.
Used with the author's permission.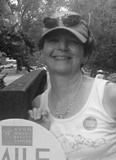 Janice Lynch Schuster lives near Annapolis, Maryland, where, in her day job, she says she feels "like a Wallace Stevens wannabe." Author of one poetry chapbook and two non-fiction books (her Handbook for Mortals won the 2012 American Medical Writers Association award for best book for the public), Janice's poetry has appeared in various print and online publications and her articles and op-ed pieces appear frequently in the Washington Post. Mother of six, she has completed an illustrated manuscript called What Are Mothers For? and is eager to find a publisher.

Lori Levy:
Very visual. I can definitely see and feel this scene at the shore!
Posted 08/23/2015 12:41 PM
KevinArnold:
I love the short lines and tercets. A beach with no woman and a richly generous view of men. I was particularly charmed by: Old man boogie boards / Salt water in his grey beard / Schooling the young ones
Posted 08/23/2015 10:06 AM