Summer yellows,
lilies, dandelions.

Summer greens,
cucumbers, peppers.

Summer reds,
tomatoes, bee balm.

Summer whites,
trousers, hats.

Summer blues,
delphiniums, jazz.

Summer,
lazily drifting
into September.


© by Robert Manchester.
Used with the author's permission.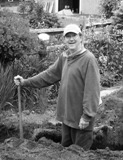 Robert Manchester lives in New Hampshire, surrounded by leafy trees, stone walls, memories of Robert Frost, and several living poetry legends. He's been writing and publishing poems for 50+ years, but quite prefers writing to submitting. Even so, his work manages to appear in print occasionally and he belongs to the John Hay Poetry Group in Newbury, New Hampshire. Though he views himself as a cynic who writes edgy poems about the "underbelly of life—the junk cars, tumbledown trailers, goat pens in the front yard, and the like—", his work is actually quite entertaining and often humorous.
jtmilford:
Your poem has the feeling and the colors of summer.
Posted 08/31/2015 07:53 PM
anne.lehman2929@att.net:
I love the use of "hats" and "jazz." They anchor the poem to the human part or summer/nature. Good Poem!
Posted 08/31/2015 08:53 AM
epysz:
Another good one. Thank you to Robert Manchester.
Posted 08/31/2015 07:00 AM
phebe.davidson@gmail.com:
Perfect choice for August's close! ("for summer's lease hath all too soon a date" (Sonnet 18)
Posted 08/31/2015 05:58 AM