He'd kept a small stone from
each of the states he'd visited,
some marked in pencil -
ARK, NEV, OK, TENN.
There was a pine cone and dried flower
from Bellingrath Gardens,
an elephant ear seed from Spanish Point,
a silver smelting cup from
an unnamed town in New Mexico.
His son looks through it all,
the Route 66 and Badlands Park pins,
an unidentified piece of bark,
seashells from Daytona and Venice beaches
and asks the oldest granddaughter
if she wants any of it because he plans
to throw it all away.
She doesn't, but the youngest says
she will put it all in her treasure box,
"because it was Grampa's."


© by†Robert Manchester.
Used with the authorís permission.
†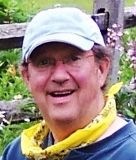 Robert Manchester (1943 - 2022) was born and raised in New Hampshire, surrounded by leafy trees, stone walls, and memories of Robert Frost, Jane Kenyon, Donald Hall, and Richard Eberhardt. He wrote and published poems for 50+ years, admitting that he much preferred writing to submitting, although his work appeared in print frequently. Robert especially enjoyed writing "edgy" poems, he said, about "the underbelly of life--the junk cars, tumbledown trailers, goat pens in the front yard, and the like." In addition to being a poet, he was a lifelong gardener and devoted volunteer at many charitable, educational, and public organizations.
Lori Levy:
I agree. Good details and good ending.
Posted 09/12/2015 12:25 PM
Janet Leahy:
Love the ending of this poem, a special connection between the young and the old is indeed a treasure. Thanks Robert
Posted 09/12/2015 10:22 AM
KevinArnold:
Smart granddaughter and poet.
Posted 09/12/2015 08:43 AM
paradea:
Cheers to the young and sweet and caring. It fades too fast!
Posted 09/12/2015 08:22 AM
phebe.davidson@gmail.com:
Good one!!!
Posted 09/12/2015 07:19 AM
Ross Kightly:
THAT's how to end a poem! Magpies of the world, be reassured. Great stuff, thanks Robert.
Posted 09/12/2015 04:37 AM