Black-eyed Susans gossip in gullies
between the road and corn
past harvest,
clouds in feather boas waltz
through pale silk skies, and cows head home
for milking, while
a hawk holds vigil on the fence post.
This poem first appeared in The Houseboat (January, 2014).
Used here with the author's permission.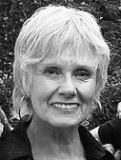 Sarah Russell lives in State College, Pennsylvania with a patient husband and a curly dog named Smudge. She is the poetry editor for Voices and co-edits Pastiche, a local literary journal. Sarah's poetry has appeared in Red River Review, Misfit Magazine, Shot Glass Journal, and Flutter Poetry Journal, among others. Follow her work at www.SarahRussellPoetry.com.
SarahRussell:
Thanks very much, everyone!
Posted 10/15/2015 09:38 AM
transitions:
Beautiful imagery, loved it...
Posted 09/22/2015 10:03 PM
Shoshauna Shy:
Beautiful artistry!
Posted 09/21/2015 08:46 PM
Lori Levy:
Very peaceful.
Posted 09/21/2015 03:15 PM
barbsteff:
Peaceful. Great descriptions.
Posted 09/21/2015 11:12 AM
Larry Schug:
Any poem where lives Black-eyed Susans or blue-eyed grass is a beauty to my eyes and ears.
Posted 09/21/2015 09:31 AM
paradea:
A beautiful poem!
Posted 09/21/2015 07:16 AM
wyantjl42:
Love the poignant imagery. I am palpably there!
Posted 09/21/2015 06:40 AM
r1manchester:
things I have seen that you describe so well.... very nice poem!
Posted 09/21/2015 04:02 AM
KevinArnold:
Wonderful.
Posted 09/21/2015 02:06 AM