In the swamp the maples
already show off their gaudy red dresses.
Cattails stand tall, trying to seem majestic,
but looking like a darker version of the corn dogs
that will be sold at the upcoming county fairs.

The nights now cool, garden growth slows,
even the zuchinni grows at a snail's pace.
Soon all the leaves will turn color
bringing the hordes of tourists
("leafpeepers" as the locals say) to drink in
not only the autumn splendor, but also the cider pressed
from now ripened apples, and sold alongside those corndogs
and at the many farm stands dotting the countryside.

Some people wonder how others can anticipate fall,
a "dying season," they say. But some of us like it,
for its bright colors, the late multi-colored corn,
and the orange pumpkins in the fields.
And, as summer's heat loses its sway, for the crisp mornings
(sweater weather) and the cool breezes during the day.

© by Robert Manchester.
Used with the author's permission.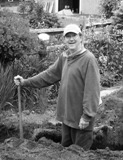 Robert Manchester lives in New Hampshire, surrounded by leafy trees, stone walls, memories of Robert Frost, and several living poetry legends. He's been writing and publishing poems for 50+ years, but quite prefers writing to submitting. Even so, his work manages to appear in print occasionally and he belongs to the John Hay Poetry Group in Newbury, New Hampshire. Though he views himself as a cynic who writes edgy poems about the "underbelly of life—the junk cars, tumbledown trailers, goat pens in the front yard, and the like—", his work is actually quite entertaining and often humorous.
loisflmom:
Will you trade me a week as a leafpeeper if I offer a January week as a Florida snowbird? Fall in NH sounds luscious!
Posted 09/24/2015 10:34 PM
barbsteff:
Love the comparison of cattails to corn dogs!
Posted 09/24/2015 01:34 PM
KevinArnold:
Interesting interplay of the things others say that spice the poem.
Posted 09/24/2015 11:21 AM
anne.lehman2929@att.net:
The descriptions are so wonderful as well as the friendliness of the cider and corndogs. Thank you for this lovely picture.
Posted 09/24/2015 11:19 AM
hujsaked@aol.com:
Really nice. I remember , while shingling the barn roof, seeing the treeline beyond the field grow golden, then crimson And later, the purple haze of October..
Posted 09/24/2015 09:03 AM