O
 H,
O
A
K
T
R
E
 E,
Y
O
U
L
E
F
T
SUCH
A HEAP!
THE FRONT-
YARD LEAVES
ARE GETTING DEEP
AND I HAVE PREMISES
TO  KEEP  AND  PILES  TO
GO THAT I MUST SWEEP AND
PILES TO GO THAT I MUST SWEEP
© by J. Patrick Lewis.
Used with the author's permission.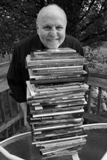 J. Patrick Lewis was the U.S. Children's Poet Laureate from 2011-2013. Author of nearly 100 children's picture/poetry books, and veteran of more than 500 visits to elementary schools around the world, J. Patrick spent many years as an economics professor before becoming a full-time writer. A resident of Westerville, Ohio, he is a twin, a fact he says "has shaped my life indelibly and delightfully from the womb." Pat is also the author of a collection of poetry for adults, Gulls Hold Up the Sky, and a nonfiction poetry primer for teachers. Learn more about him at www.jpatricklewis.com.
transitions:
Fun!
Posted 10/28/2015 12:48 PM
Jo:
Loved it.
Posted 10/16/2015 02:03 PM
Lori Levy:
Great!
Posted 10/16/2015 12:27 PM
jr1010:
Clever!
Posted 10/16/2015 10:12 AM
barbsteff:
Ha ha!
Posted 10/16/2015 10:08 AM
Cindy:
clever! I love it.
Posted 10/16/2015 09:37 AM
ElizabethP:
What fun! :-)
Posted 10/16/2015 09:13 AM
cork:
I think Robert Frost would enjoy this lovely physical poem. I did.
Posted 10/16/2015 08:45 AM
erinsnana:
I love this! So creative...
Posted 10/16/2015 08:36 AM
Katrina:
Appearances are displayed magically.
Posted 10/16/2015 06:53 AM
Linda Anger:
Oh, this is delightful!
Posted 10/16/2015 05:40 AM
r1manchester:
VERY clever!
Posted 10/16/2015 04:25 AM
rhonasheridan:
I can't think what to say! The child lurking in me absolutely loved it! I nearly choked on my toast and marmalade!
Posted 10/16/2015 04:24 AM