I want to be a great big man
I'm tired of being little
I want a big jack knife
Just so I can whittle.
If I should cut my finger
I would tie a rag around it
I wouldn't say but one single word
confound it!
I want a way up pair of boots
So hard to get on
So I can grunt and say
"great scot" just like Uncle John.
I want a watch that ticks
An old gray mule that hollars,
A horse that cost a powerful lot
About a hundred dollars.
Well, I guess I had better go
and eat my Johnnycake
and hurry up and grow!!

This poem is in the public domain.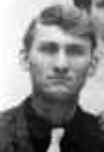 James Tugalo Rogers (1887 - 1929) was born in Albertville, Alabama to a farming family. He married Carrie Evergreen Dowdy and became the father of eight daughters and a son. The family moved to Dover, Florida in the early 1900s where they raised strawberries. James played the fiddle and was well known for his sense of humor and love of pranks. He is the maternal grandfather of YDP editor, Jayne Jaudon Ferrer.

Mary Lou Taylor:
James Tugalo Rogers was a fiddle player like my grandfather, and with this poem a poet.
Posted 10/20/2015 03:07 PM
wordlover:
So glad you shared this. What fun!
Posted 10/19/2015 07:07 PM
Sherry:
This is so cute. Pretty good rhyming, too. He turned out to be a nice-looking man.
Posted 10/19/2015 12:42 PM
barbsteff:
Thanks. He expressed so skillfully how a young boy thinks - I want to be big!
Posted 10/18/2015 09:02 PM
Lori Levy:
Impressive for a 7-year-old--and even for someone older!
Posted 10/18/2015 03:05 PM
Jancan:
Age 7--WOW! This is SO cute and well written. Janicd
Posted 10/18/2015 01:57 PM
cork:
An astonishing skill with rhyme. I am impressed!
Posted 10/18/2015 09:07 AM
Cindy:
I really like that thoughtful little boy that he was.
Posted 10/18/2015 08:35 AM
Jean :D:
Sounds like a fun grand father! for mine it's my **mother, her brother, my daughter, my sister, All the rest are "computer geeks" or Pharmacists. I'm trying to convert them with your Daily Poems :)
Posted 10/18/2015 07:51 AM
mimi:
wow, written by a seven year old??? love the line "way up pair of boots!"
Posted 10/18/2015 07:33 AM
Ross Kightly:
I'm still working on not saying a single word if I cut my finger, but hope still glimmers in the swamp of niggle and twinge... lovely poem Jayne - thank you.
Posted 10/18/2015 04:44 AM