Memory, I mean. I mean
the pizza take-home box perched
atop the car while I loaded the important
stuff — what I'd been reading
over a combo pizza — a carmen, song,
a magic spell, O Fortuna. The poem
I was reading made me forget leftovers
on the roof. I drove home.
The pizza haunts me. Lost
forever on the road, may it become
a poem. Imagine a man in faded work-
jeans wondering if he'll get supper.
And there, out of the lane
of traffic — pizza!
The crusts I was saving for my dog
he'll offer to his own,
a clever little heeler with one brown
eye, one blue, who thanks with mismatch
eyes. Behind the quick-stop
man and dog will dream in metaphor.
Sometimes a poem
can do this, can feed the hungry.


From Uplift (forthcoming from Cold River Press).
This poem first appeared in Convergence.
Used here with the author's permission.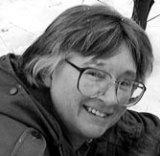 Taylor Graham lives in the Sierra foothills with her husband, Hatch, and three German Shepherds trained, or in training, for search-and-rescue. Taylor and Hatch have been volunteer searchers with their dogs for over forty years in Alaska, Virginia, California, and beyond. Taylor's latest book of poetry is What the Wind Says (Lummox Press), about her years of living, training, and searching with her canine partners. A new collection, Uplift, is forthcoming from Cold River Press. Learn more about Taylor at www.somersetsunset.net.
faustina1:
This is a lovely poem--lifted my spirits!
Posted 10/23/2015 12:23 PM
rhonasheridan:
Roof-top shenanigans deserve a poem of their own! This one is perfect. My last disaster was gloves. I hope someone liked them. It was a very cold day.
Posted 10/23/2015 12:55 AM
Lori Levy:
Great!
Posted 10/22/2015 03:27 PM
wendy morton:
Eat this poem.
Posted 10/22/2015 10:09 AM
ElizabethP:
Wonderful poem. Makes me smile...
Posted 10/22/2015 09:59 AM
paradea:
This is great!! I've driven off with drinks in cups on the top of my car, and once, a shoe box with my high heels in it. What a 'feel good' poem!!
Posted 10/22/2015 09:28 AM
Cindy:
I love this one!
Posted 10/22/2015 08:58 AM
KevinArnold:
Great ending . . .
Posted 10/22/2015 02:17 AM
Larry Schug:
Thanks Taylor and Jayne for a fantastic poetic start to my day. I lost a cool leather jacket the same way, though three open-end wrenches once survived 14 miles on the hood of my car. I'm still waiting for the poems about these two incidents and hope they might be as imaginative and right on as "Lapse".
Posted 10/21/2015 07:46 AM