Philadelphia, November 1976
Into the ice-edged darkness, my husband
and I hurried in the weak light of jaundiced
lanterns. Chestnut vendors huddled
into themselves, their fiery coals hissing.

Wind howled as we turned
the corner on Walnut Street, ripped off my hand-
loomed scarf  and sent it flying.
I didn't know it was gone
until I heard the voice,
a wailing cry in the night.
A woman crouched over the grate,
my red silk
scarf thrashing
from a withered hand.
Unkempt, her face was pocked and ridged
with wrinkles. Garments of neglect hung
on the skeletal frame as she hovered in the warmth
of the manhole's rising steam. We stopped,
uncertain. She grabbed the hem of my coat.
Fear met the madness of her roving eye.

In the shelter of our car, she spoke to us
of art and architecture, insisted that her son was
a great industrial artist.
We talked close to an hour before we scrunched
bills into her hand, gave her our address
and drove away. She bent back into the black
starless night and we re-entered our comfortable life.

Months later, a police captain called
to tell us she was dead,
our name in her pocket,
the only clue to her life. A life we had forgotten.

Thirty years later, she is still the face I don't know,
and the face I'd know anywhere.
Sometimes on a foggy night,
or walking the cracked sidewalks of my small town,
I see the open hand so near, the bent body I want
to call back.


© by Mary Jo Balistreri.
Used with the author's permission.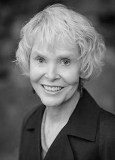 Mary Jo Balistreri is the author of two poetry books, Joy in the Morning and Gathering the Harvest, plus a chapbook, Best Brothers, published by Tigers' Eye Press. Mary Jo feels that losing oneself in the process of writing is healing, and that sharing poems, learning about the experiences of others, and the sensibilities and events that move them widens our circle of community. Learn more about her at http://maryjobalistreripoet.com/.
NCDeb:
Jo, Don't know if you remember me....I used to live in Rehoboth and worked with Maribeth on the first two Writers at the Beach:Pure Sea Glass. I worked at Booksandcoffee in Dewey. Found this poem while strolling around Facebook this morning. Wow! It's absolutely gorgeous. What a wonderful serendipity to start my day! All best wishes, Debby (Elderdice) Creasy in Wilmington NC now.
Posted 12/21/2015 07:38 AM
MarianneSzlyk:
What a wonderful poem, Mary Jo. It is appealing on so many different levels: your humanity to this woman, the vivid imagery...something for everyone!
Posted 11/30/2015 09:55 PM
rhonasheridan:
a very good poem on a terrible subject. There is no excuse for loneliness.
Posted 11/30/2015 11:46 AM
plgoodman:
How does one comment on a poem that has the ability to knock you off your feet? This is one of those. OMG!
Posted 11/28/2015 03:46 PM
Mary Lou Taylor:
More than a touching poem. A life's lesson. This is the first poem I've read of your. I will read more.
Posted 11/28/2015 03:01 PM
marilynfleming:
What a lovely poem, Jo. I enjoy your poems so much.
Posted 11/28/2015 02:34 PM
twinkscat:
Beautiful, narrative poem, as always, Jo. Can't wait for your next book.
Posted 11/28/2015 02:00 PM
paula:
I love this have always loved this. BLess your kind heart.
Posted 11/28/2015 01:41 PM
Jo:
Thank you everyone for your comments. They are appreciated.
Posted 11/28/2015 01:21 PM
Lori Levy:
Powerful poem!
Posted 11/28/2015 12:51 PM
transitions:
Loved the title and wondered instantly about the 'lady'. What I read gave me chills...a poignant, beautifully wrought poem with a grip on your consciousness that won't let go and becomes your own...memory. Another 'thank you', Jo ~
Posted 11/28/2015 12:18 PM
Wilda Morris:
Powerful poem, Jo.
Posted 11/28/2015 11:28 AM
jeeger:
Wow!
Posted 11/28/2015 11:08 AM
Janet Leahy:
The "red silk scarf" and the "garments of neglect" wonderful images, and a perfect title. Thanks Mary Jo.
Posted 11/28/2015 10:55 AM
jlandwehr:
Great work, Jo. Loved it!
Posted 11/28/2015 10:53 AM
becky evans:
A wonderful poem! Glad to read it again while still in the Thanksgiving mood in "our comfortable life." A challenge!
Posted 11/28/2015 10:39 AM
Mike Bayles:
This is a wonderful poem. Mike Bayles
Posted 11/28/2015 10:33 AM
barbsteff:
Profound!
Posted 11/28/2015 10:31 AM
ladybug:
A poignant moment nicely captured. Susan T. Moss
Posted 11/28/2015 10:02 AM
TheSilverOne:
A beautiful and moving poem. ......Doris Bezio
Posted 11/28/2015 09:45 AM
paradea:
Awwwww!
Posted 11/28/2015 09:33 AM
tiddles:
A stunning poem in its ability to lead, hold, and stay. This poem will be with me for a very long time. Thank you, Jo. Marilyn Z. Windau
Posted 11/28/2015 09:00 AM
rksanders@charter.net:
Captivating, moving, beautiful.
Posted 11/28/2015 07:57 AM
mimi:
pure and poignant, Mary Jo, and the ending is perfect...thank you, Sharon Auberle
Posted 11/28/2015 07:35 AM