The sky is low, the clouds are mean,
A travelling flake of snow
Across a barn or through a rut
Debates if it will go.

A narrow wind complains all day
How some one treated him;
Nature, like us, is sometimes caught
Without her diadem.
This poem is in the public domain.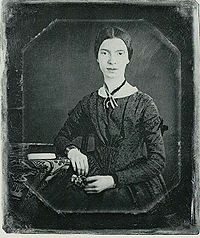 Emily Dickinson (1830 - 1886) is considered a major American poet, though she was not accorded this honor until well after her death, when her younger sister discovered and began to share the enormous body of work that Emily left behind. A recluse who almost always wore white, Emily was born to a prominent Massachusetts family and spent the bulk of her life inside her home in Amherst. Only seven of her poems were published during her lifetime, and virtually none were published as originally written until the mid 1950s. (Emily's odd punctuation, capitalization, and formatting did not meet with standard publishing  ?approval" for earlier editions.)  There is a whimsical nature to many of her poems, although the subject of death was the most frequent recurring theme.
Dorcas:
No one like Emily to tell us what is out there this winter and all winters.
Posted 12/12/2015 02:26 PM
KevinArnold:
That word 'mean' in the first line sets the reader at attention that something very different is happening here.
Posted 12/08/2015 09:24 AM
John:
A New England poet describing a New England winter scene.
Posted 12/08/2015 08:20 AM
rhonasheridan:
Emily Diickinson is wonderful - always
Posted 12/08/2015 02:09 AM