Fate used me meanly; but I looked at her and laughed,
That none might know how bitter was the cup I quaffed.
Along came Joy, and paused beside me where I sat,
Saying, 'I came to see what you were laughing at.'
This poem is in the public domain.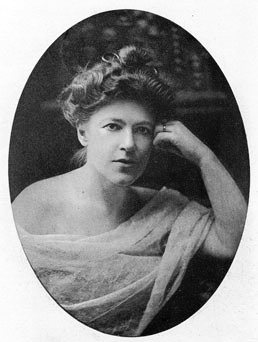 Ella Wheeler Wilcox (1850-1919) was a popular and prolific poet. Published and lauded before she even graduated from high school, Ella preferred to write happy, upbeat poetry and was much beloved for it. More than a dozen of her poems are included in the book, Best Loved Poems of the American People (Doubleday, 2008). The familiar saying, "Laugh and the world laughs with you, weep, and you weep alone. . ." comes from her best-known poem, "Solitude." A morally strong and spiritual person, Ella believed that her purpose on earth was to practice kindness and service. Read more about her here.
rhonasheridan:
What a lovely poem. I love her anyway - but this one is special
Posted 12/18/2015 01:08 AM
Dorcas:
Wonderful. Blessed be JOY.
Posted 12/17/2015 04:44 PM
carel:
A perfect inspiration for the Christmas season. . .
Posted 12/17/2015 09:06 AM
KevinArnold:
It's so great to see Wilcox's work getting out. She's undervalued as a rule. In this one, such concision! Great find!
Posted 12/17/2015 08:36 AM
paradea:
What a great poem! Laughter IS the best medicine!!
Posted 12/17/2015 08:17 AM
bbatcher:
Rogers and Hammerstein expressed the same truth when they wrote "Whenever I feel afraid I hold my head erect And whistle a happy tune So no one will suspect I'm afraid... The result of this deception Is very strange to tell For when I fool the people I fear I fool myself as well."
Posted 12/17/2015 06:38 AM
Katrina:
Great. This personification reminds me of 'My House' by Aaron Jerome Gay, which I think you also introduced me to, Jayne. Ella's attitude would be helpful in my house.
Posted 12/17/2015 02:41 AM