The man that is open of heart to his neighbour,
And stops to consider his likes and dislikes,
His blood shall be wholesome whatever his labour,
His luck shall be with him whatever he strikes.
The Splendour of Morning shall duly possess him,
That he may not be sad at the falling of eve.
And, when he has done with mere living, God bless him!
A many shall sigh, and one Woman shall grieve! 

But he that is costive of soul toward his fellow,
Through the ways, and the works, and the woes of this life,
Him food shall not fatten, him drink shall not mellow;
And his innards shall brew him perpetual strife.
His eye shall be blind to God's Glory above him;
His ear shall be deaf to Earth's Laughter around;
His Friends and his Club and his Dog shall not love him;
And his Widow shall skip when he goes underground!
This poem is in the public domain.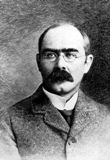 Rudyard Kipling (1865 - 1936) was an English author and poet. Born in India to British parents who were involved in preserving Indian art and architecture, Rudyard was sent back to England to be educated when he was only six. He rejoined his family in India eleven years later, pursuing a career as a journalist. Returning to England in 1889, his stories and poetry gained widespread and immediate attention. Critics generally loathed Kipling's work, but the public loved it. Stories such as The Jungle Book, The Elephant's Child, and How the Camel Got His Hump are now classic favorites.
rhonasheridan:
Kipling had a marvellous sense of humour. I still read his Just So stories. First read when li was about seven or eight. Lovely man. Super poem!
Posted 01/09/2016 03:30 AM
transitions:
Funny, the man had a sense of humor Too ~
Posted 01/08/2016 01:57 PM
Ross Kightly:
Good to see Kipling presented in a positive light and in one of his more sprightly outings - great choice, Jayne!
Posted 01/08/2016 11:01 AM
barbsteff:
Funny. I'll have to look up "cositive." I guessed it meant thoghtful, but apparently not, in context.
Posted 01/08/2016 10:21 AM
paradea:
This is fun...and so true!
Posted 01/08/2016 07:42 AM