I'm confused. I thought when thistle filled
the Copper Triple Tube, we had a deal.
You'd breakfast in tranquility, spread notes
around our cul-de-sac, return
for evening snacks, and sing, of course,
your best for me. But I thought wrong.
You've scavenged through my annuals,
electing seeds ? prosaic and alive ?

 
in lieu of mixtures trendy and refined;
refused to jump from ground to rim
before the winter storms set in
I've cut my loss and hurt, and stashed
the copper with my thistle sacks.
See the note tacked on the vacant pole:
We're closed. Gone south. Enjoy the seedless snow
.
This poem first appeared in Songs of Eretz Poetry Review (2014).
Used here with the author's permission.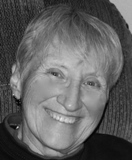 After forty years in the academic and business worlds, Carolyn Martin is blissfully retired in Clackamas, Oregon, where she gardens, writes, and plays with creative friends. Since the only poem she wrote in high school was red-penciled "extremely maudlin," she is amazed she has continued to write. Carolyn is the co-author of four books on generational diversity in the workplace, and the author of two poetry collections.

transitions:
A long time since this posted but I saved it to savor again. Remiss for not writing, I loved it!
Posted 02/11/2016 11:20 AM
Katrina:
This is a charming poem. It challenges my belief that nature is the poetic universe against which our manufactured creations can only be a poor imitation. Thank you.
Posted 01/14/2016 04:04 AM
Caro70:
As a first timer on this site, I never expected the lovely comments and so many shared experiences. I want you all to know I went out and bought black oil sunflower seeds. Now I may not only feed birds but grow a sunflower garden -- which might produce another poem! Many thanks! Carolyn
Posted 01/11/2016 07:14 PM
Dorcas:
Avion sense of humor!
Posted 01/11/2016 05:13 PM
ElizabethP:
Love it! Funny.
Posted 01/11/2016 12:44 PM
Michael:
I used to feed birds myself with similar disappoints as well as a few victories with Cardinals and House Finches stopping by and staying long enough to let us look. Thank you for this marvelous ironic poem. Michael Escoubas
Posted 01/11/2016 10:05 AM
Caro70:
As a caveat to all the bird lovers out there: the poem was meant in fun and I did continue to offer seeds --which they finally found. Thanks for the recommendation, plgoodman, on a better kind! I'll get some today!
Posted 01/11/2016 09:53 AM
Barry:
Very nicely done!!!
Posted 01/11/2016 09:52 AM
rhonasheridan:
Been there., apart from the fact the chaffinches didn't like my seeds - I am blighted by a charming squirrel who gobbles up the lot!
Posted 01/11/2016 08:00 AM
plgoodman:
Yes, the trials of the new year bird lover! Try a mix or black oil sunflower seed. Few birds eat thistle. They will come!5
Posted 01/11/2016 07:02 AM
Jean :D:
Patience Carolyn "and they will come". They were probably sadder then you, when they found your note, "we're closed". (haha) Charming poem.
Posted 01/11/2016 06:11 AM