An old man loiters 
where two paths cross in Central Park's 
woodsy back-country. 
He's just standing mid-afternoon 
during a February thaw, 
head cocked under a pea-green beret 
listening to the birds, 
who have got nothing to say
all day long but good news, 
or maybe no news,
which is good enough for him. 
Their lives are uneventful. 
Just like his, whose ears 
have heard so much 
over the years, but now 
are content to hear nothing 
more than birdsong, 
which even the birds don't understand. 
What is there to understand? 
The round tones rising and falling 
signifying joy alone, 
calling for no response 
other than joy reverberating
from some other avian throat. Rapture 
multiplied by two. 
© by Richard Schiffman.
Used with the author's permission.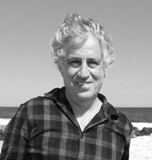 Richard Schiffman splits his time between New York City and the Sangre de Christo Mountains of New Mexico. His poems have been published widely; a collection, What the Dust Doesn't Know, is forthcoming next year from Salmon Press. Richard is also the author of two biographies. An environmental journalist, he feels that poems alone may not be enough to save the Earth. Learn more about Richard here.
rhonasheridan:
I've just read it again .on another day and it gets even better
Posted 02/23/2016 11:31 AM
Lori Levy:
Beautifully soothing!
Posted 02/21/2016 05:34 PM
transitions:
Loved this poem, insightful, sensitive...true. can never be too many good 'bird' poems for me.
Posted 02/21/2016 01:00 PM
Jo:
Thank you for this lovely poem. I too am a bird lover. They enrich our lives in so many ways.
Posted 02/21/2016 12:55 PM
Joyce Burke:
I am a bird lover as well, and this poem spoke to me on so many levels! Sitting for hours on my porch, watching the air-traffic-control problem created by the birds rushing to our feeder for suet and sunflower seed, I feel a sweet peace and contentment almost unexplainable. Retired and living below the poverty line, I could not imagine not sharing my few pennies to feed the birds who sing so sweetly to me. Bless you for awakening us once again to the free, God-given joy of precious birds.
Posted 02/21/2016 11:28 AM
Dorcas:
I understand. It is like the ad lib of Native American flute.
Posted 02/21/2016 09:34 AM
ElizabethP:
Love this poem. And any good bird or environmental poem... And the Sangre de Cristo Mountains of NM as well. Thanks for sharing!
Posted 02/21/2016 09:02 AM
Glen Sorestad:
A great start to the day! You don't even have to be a birder to love this one.
Posted 02/21/2016 08:10 AM
mimi:
a true and lovely poem..
Posted 02/21/2016 07:32 AM
phebe.davidson@gmail.com:
Indeed!
Posted 02/21/2016 05:07 AM
rhonasheridan:
What a really lovely poem. Thank you Richard. It has brightened my morning
Posted 02/21/2016 03:05 AM