The railroad track is miles away,
And the day is loud with voices speaking,
Yet there isn't a train goes by all day
But I hear its whistle shrieking.

All night there isn't a train goes by,
Though the night is still for sleep and dreaming,
But I see its cinders red on the sky,
And hear its engine steaming.

My heart is warm with the friends I make,
And better friends I'll not be knowing,
Yet there isn't a train I wouldn't take,
No matter where it's going.
This poem is in the public domain.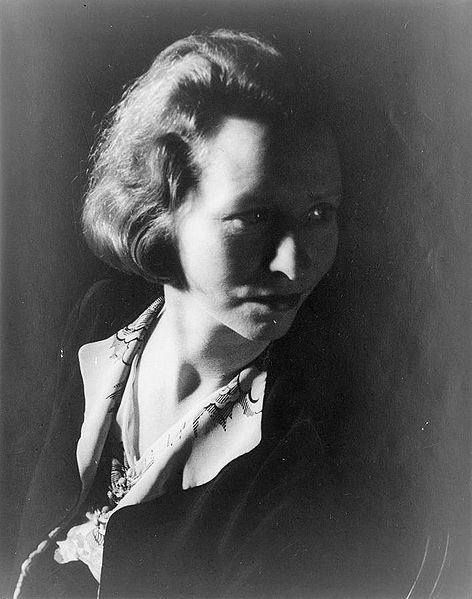 Edna St. Vincent Millay (1892 - 1950) was a poet and playwright and the first woman to win a Pulitzer Prize. She began publishing poems while still in high school and earned a full scholarship to Vassar based largely on a single poem, called "Renascence." Part of a prominent group of artists and writers who lived in Greenwich Village, Millay was as famous for her bohemian lifestyle as for her writing. She spent the last half of her life entertaining fellow artists with her husband at Steepletop, their pastoral New York estate, which is now a National Historic Landmark.
transitions:
'Vincent' a favorite poet, always ~
Posted 03/16/2016 12:00 PM
Jean Colonomos-1:
Jean Colonomos Yay, Edna!
Posted 03/15/2016 04:07 PM
mjs.ontheroad@gmail.com:
Ah, Edna once again taps the nail into place with her pen! I'm *always* ready to go . . .
Posted 03/15/2016 10:25 AM
Dorcas:
I somehow think that if one is content with reaching out in one's own space there is little need to travel. However, I think I might hop on that train when it came along.
Posted 03/15/2016 09:24 AM
Mary Lou Taylor:
I'm with Edna St. Vincent Millay and somehow hope to get on the next train to somewhere. This poem of hers is a wonderful prompt.
Posted 03/15/2016 08:51 AM
KevinArnold:
Ah the wanderlust, the wonder and the lust so succinctly spoke.
Posted 03/15/2016 08:45 AM
paradea:
Edna St Vincent Millay is one of my favorite poets. Her biography, "Savage Beauty" is so interesting.
Posted 03/15/2016 08:01 AM
Newf:
I love the poem and its imagery. Such wonderful writing. I can understand the sentiment and feel it. However, I'm content to stay where I am. At this point in my life.
Posted 03/15/2016 05:38 AM