They shut the road through the woods 
Seventy years ago. 
Weather and rain have undone it again, 
And now you would never know 
There was once a road through the woods 
Before they planted the trees. 
It is underneath the coppice and heath, 
And the thin anemones. 
Only the keeper sees 
That, where the ring-dove broods, 
And the badgers roll at ease, 
There was once a road through the woods. 

Yet, if you enter the woods 
Of a summer evening late, 
When the night-air cools on the trout-ringed pools 
Where the otter whistles his mate. 
(They fear not men in the woods, 
Because they see so few) 
You will hear the beat of a horse's feet, 
And the swish of a skirt in the dew, 
Steadily cantering through 
The misty solitudes, 
As though they perfectly knew 
The old lost road through the woods. . . . 
But there is no road through the woods.

This poem is in the public domain.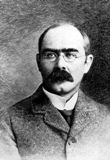 Rudyard Kipling (1865 - 1936) was an English author and poet. Born in India to British parents who were involved in preserving Indian art and architecture, Rudyard was sent back to England to be educated when he was only six. He rejoined his family in India eleven years later, pursuing a career as a journalist. Returning to England in 1889, his stories and poetry gained widespread and immediate attention. Critics generally loathed Kipling's work, but the public loved it. Stories such as The Jungle Book, The Elephant's Child, and How the Camel Got His Hump are now classic favorites.
Richard Greene:
Fine poem. Kipling, "Rudyard the Dudyard" as Pound called him, was and is a much underrated poet. Richard Greene
Posted 05/12/2016 08:22 PM
Jo:
Thank you Jayne. how sensuous, a wonderful experience walking through the woods with Kipling.
Posted 05/09/2016 05:30 PM
Michael:
Wonderful post, Jayne. Reminds me of today's refreshing morning walk albeit on city streets of Bloomington, IL
Posted 05/09/2016 08:47 AM
plgoodman:
Magic for sure. The rhythm is mesmerizing and so skillful. It is nice to read something like this once in awhile. Thanks.
Posted 05/09/2016 07:30 AM
Larry Schug:
I think the lines in parenthesis might be edited out, but, Rudyard, this is awesome. Thanks, Jayne.
Posted 05/09/2016 07:20 AM
Newf:
I know some Kipling, but I don't remember ever reading this one, it is just wonderful. Thank you so much.
Posted 05/09/2016 07:18 AM
rhonasheridan:
I'd forgotten this lovely poem. I found I got quite tearful reading it again after so many years. When I was about twelve it was (perhaps still is) a magic poem.
Posted 05/09/2016 03:58 AM