Perched in the choir loft,
our fathers watch us like hawks,
their mouths drawn
into thin, straight lines.

I pass you a gumdrop
and shift my gaze to read
the note you have written
on your bulletin.

In the front pew,
two foxes on the shoulders
of a blue-haired lady
bite down harder on their toes.

© by Joan Wiese Johannes.
Used with the author's permission.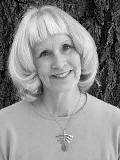 Joan Wiese Johannes is retired from a rewarding and challenging career as an English teacher. The author of several poetry collections, she also composes music for Native American-style flute and includes it with her poetry readings. Joan believes that Thornton Wilder was right when he wrote that only poets and saints truly appreciate life while they are living it. Hardly a saint, Joan appreciates the life she shares with her poet/artist husband, Jeffrey, in Port Edwards, Wisconsin.
Alarie Tennille:
I enjoyed this poem so much that I forwarded it to friends. I was always repulsed by those fox stoles, even though my mother-in-law loved hers.
Posted 05/23/2016 12:54 AM
Lori Levy:
Says so much in a few short verses.
Posted 05/22/2016 06:57 PM
barbsteff:
Ah, what wonderful wit, and observation!
Posted 05/22/2016 04:30 PM
rhonasheridan:
Lovely! My Mother had two hungry foxes too, Such a good poem.
Posted 05/22/2016 01:11 PM
Sarah Russell:
Oh yes! That weird stole, wrap, whole animal thing. Watched them in church chasing each other around and around.
Posted 05/22/2016 12:59 PM
transitions:
Loved the clever twist at the end. I, too, had a P.K. as a friend, not the best influence...:)!
Posted 05/22/2016 12:18 PM
Jean Colonomos-1:
Jean Colonomos I like the counterpoint of passing a gumdrop, something to chew on, and the foxes who "bite down."
Posted 05/22/2016 11:52 AM
Larry Schug:
Excellent. One of the keys to a good poem (I should take my own advise) is less says more. My mom had one of the fox stoles. It's too bad most people didn't know any better then, not that we act like we do now.
Posted 05/22/2016 10:11 AM
KevinArnold:
Fun.
Posted 05/22/2016 09:56 AM
jeeger:
That last line did it! It took me by surprise but summed up the situation perfectly!
Posted 05/22/2016 09:54 AM
Janet Leahy:
Those fathers perched like hawks and the blue haired lady wearing her fox, a great memory piece. Thanks Joan
Posted 05/22/2016 09:53 AM
blueskies:
Ditto!!! On the ~ O YES
Posted 05/22/2016 09:08 AM
ronaccount:
been there, done that, thanks
Posted 05/22/2016 08:42 AM
cork:
I love the two foxes!
Posted 05/22/2016 07:38 AM
plgoodman:
Love that last line...
Posted 05/22/2016 07:05 AM
mimi:
o yes!
Posted 05/22/2016 06:59 AM
Newf:
I can just picture the whole scene, nice!
Posted 05/22/2016 06:45 AM
Katrina:
I love this and do not know what else to say. Thank you,Joan. I'd love to hear some of your flute music.
Posted 05/22/2016 04:22 AM