Christmas is here;  
Winds whistle shrill,  
Icy and chill,  
Little care we;  
Little we fear 
Weather without,  
Shelter'd about  
The Mahogany Tree.  
  
Once on the boughs  
Birds of rare plume
Sang, in its bloom;  
Night birds are we;  
Here we carouse,  
Singing, like them,  
Perch'd round the stem    
Of the jolly old tree.  
  
Here let us sport,  
Boys, as we sit—  
Laughter and wit  
Flashing so free.    
Life is but short—  
When we are gone,  
Let them sing on,  
Round the old tree.  
  
Evenings we knew,    
Happy as this;  
Faces we miss,  
Pleasant to see.  
Kind hearts and true,  
Gentle and just,       
Peace to your dust!  
We sing round the tree.  
  
Care, like a dun,  
Lurks at the gate:  
Let the dog wait;       
Happy we 'll be!  
Drink every one;  
Pile up the coals,  
Fill the red bowls,  
Round the old tree.   
  
Drain we the cup.—  
Friend, art afraid?  
Spirits are laid  
In the Red Sea.  
Mantle it up;    
Empty it yet;  
Let us forget,  
Round the old tree.  
  
Sorrows, begone!  
Life and its ills,     
Duns and their bills,  
Bid we to flee.  
Come with the dawn,  
Blue-devil sprite,  
Leave us to-night,      
Round the old tree.
This poem is in the public domain.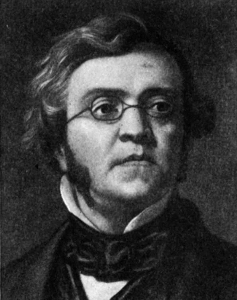 William Makepeace Thackeray (1811 - 1863) was a British writer known primarily for his satirical novels. Born in Calcutta, India, to English parents who worked for the East India Company, William was a mediocre student, at best. He did a bit of traveling, made a feeble attempt at studying law, then made a fairly serious attempt at becoming an artist before finally committing himself to a career in journalism. Though his professional life was quite successful and satisfying (during his lifetime, he was considered second only to Dickens as a popular novelist and lecturer), his private life was quite sad; one of his three daughters died in infancy and, after only four years of marriage, William's wife began battling mental illness that would plague her the rest of her life. Vanity Fair is William's best-known and most enduring work, although he published well over a dozen novels and hundreds of essays and articles.
There are no comments for this poem yet.