Vibrant tangerine blooms,
transplants from Mother's garden,
lighten the darkest corner of my yard
. . . smiling faces that greet the day
chorusing once upon a time.


© 2015 by Merle Hazard.
Used with the author's permission.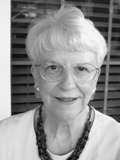 Merle Hazard lives in Macon, Georgia. Her poems have appeared in a number of secular and inspirational publications. A home health and hospice nurse for many years, she worked as a director of programs as well as at bedsides. Now retired, Merle enjoys reading, walking, playing bridge, and spending time with friends and family--including her two sons and five grandchildren.
barbsteff:
Exquisite Merle. Congrats. Barb Germiat
Posted 06/25/2016 02:59 PM
ElizabethP:
Brilliant. And tangerine. ;-) Love it!
Posted 06/25/2016 12:05 PM
Jean Colonomos-1:
Jean Colonomos Splendid!
Posted 06/25/2016 10:34 AM
paradea:
Beautiful.
Posted 06/25/2016 09:52 AM
blueskies:
O,Yes! A delight to behold >...chorusing once upon a time. Thanks, Merle.
Posted 06/25/2016 07:34 AM
Ross Kightly:
Spang on! Hits a number of nails right smack on the head in such a small compass - lovely poem to start the day with - thanks folks!
Posted 06/25/2016 04:30 AM