Lord, make me an instrument of Thy peace;
Where there is hatred, let me sow love;
Where there is injury, pardon;
Where there is error, the truth;
Where there is doubt, the faith;
Where there is despair, hope;
Where there is darkness, light;
And where there is sadness, joy.

O Divine Master,
Grant that I may not so much seek
To be consoled, as to console;
To be understood, as to understand;
To be loved as to love.

For it is in giving that we receive;
It is in pardoning that we are pardoned;
And it is in dying that we are born to eternal life.

This poem is in the public domain.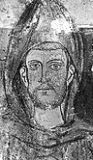 Giovanni di Pietro di Bernardone (1182 – 1226), called Francesco by his family but better known to the rest of us as St. Francis, was born in Assisi, Italy. Son of a successful silk merchant and a mother of noble descent, Francis spent his youth enjoying life and traveling. A stint as a soldier and a serious illness likely played a role in his decision to ultimately devote his life to caring for the poor. He renounced his family's wealth to live a life of poverty, preaching, and teaching. Founder of the Order of the Franciscans, he is also known as the patron saint of animals. Though St. Francis is traditionally credited with the composition of this prayer, there is no legitimate confirmation of this attribution.
bobbyboi:
yo this poem is dope
Posted 04/18/2019 01:34 PM
Wilda Morris:
This prayer is always appropriate - especially right now. Thanks for posting it, Jayne.
Posted 07/13/2016 08:39 AM
KevinArnold:
In one of the imponderable happenstances, I attended a friend's memorial service yesterday, the day this was YDP, and this poem/prayer was distributed on a card to all those at the service.
Posted 07/09/2016 11:21 AM
rhonasheridan:
I'd forgotten about this lovely poem. Thank you Jayne.
Posted 07/09/2016 05:34 AM
ghctenmile@earthlink.net:
Thank you for posting this poem today, Jayne. With all the terrible and needless deaths coming at us these days, we need to hear consoling words.
Posted 07/08/2016 08:43 PM
Dorcas:
One of my favorites. Today is my birthday. A wonderful gift.
Posted 07/08/2016 02:47 PM
Newf:
Beautiful!
Posted 07/08/2016 01:48 PM
Janet Leahy:
Thank you Jayne, we need these words today.
Posted 07/08/2016 09:43 AM
KevinArnold:
And what a day to post this poem. Thank you.
Posted 07/08/2016 09:00 AM
michaelanderson:
Words we need to hear. Thanks Jayne.
Posted 07/08/2016 06:48 AM
blueskies:
Good choice,Jayne. Good Spirit ode. For the present polarization in our society & world. St.Francis & Mother Teresa agree'd > Yes. It is a work-in-progress. Then & now. Peace.
Posted 07/08/2016 06:19 AM
Nabby Dog:
If I could, I would write this across the sky.
Posted 07/08/2016 05:48 AM
Jane Eva Cooper:
Dear World, Quite so! With Love x
Posted 07/08/2016 05:37 AM
Jean :D:
Indeed, a prayer to remember as we listen to today's news, & live each day with others, whether good or bad.
Posted 07/08/2016 05:27 AM