While harvesting my newly ripened peppers,
from the corner of my eye, I catch some motion
and sure enough, he is back ? Jefferson ­­
who was here in late Spring to pilfer peas,
and we had a quite lively discussion about his line
in the Declaration, the "Pursuit of Happiness."
He left with his pockets full and in some
disagreement with my interpretation of that phrase,
my contention being he had made it seem that
happiness was a "commodity," a thing that could
be "found" if someone chased after it long enough.
It is something, I countered, that comes from within.
A feeling that comes from an association with another,
human or beast, an accomplishment done well.
Now I am sure he is here for peppers
since previously he had sputtered about eggplant,
"a most horrific taste and texture," and he held
the Colonial belief that tomatoes "are a poison
to the heart, red nightshade."
As he wandered over to me, his pockets beginning
to bulge with stolen peppers, he opined that "perhaps" I
did have a point in my happiness argument. That "pursuit"
had a connotation he had not thought of (although he had told me
previously that "Adams" thought it sounded "like a damn fox hunt."
"Remember" he said, "the Declaration was finalized by John, Ben, and me
in a tavern late in the day, and words are just words after a few mugs."
While admiring a plump New Mexico Anaheim he reminded me
that what was done in the Declaration is done, and History, including
his own dalliances, cannot be changed, it is Final.
Nonetheless, he went on, if he had to do it again perhaps
he would use "the prospect of" or "the chance of" or maybe even
"the setting in which one can foster Happiness" (although this last
he felt "while right, was too lengthy for the eloquence needed.")
At this point he was having trouble finding space in his frock
for more peppers and I think he was even contemplating whether
he had room for a melon.
I turned away for a moment, and when I turned back to thank him
for his considerations, he had started to walk away, his pockets
stuffed with purloined peppers, a bulge under his coat.
"Mr. President, will I see you again"?
"Perhaps, my friend," he replied, "Spring always comes and your peas
make a tasty dish."

© by Robert Manchester.
Used with the author's permission.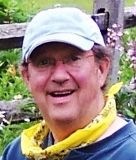 Robert Manchester (1943 - 2022) was born and raised in New Hampshire, surrounded by leafy trees, stone walls, and memories of Robert Frost, Jane Kenyon, Donald Hall, and Richard Eberhardt. He wrote and published poems for 50+ years, admitting that he much preferred writing to submitting, although his work appeared in print frequently. Robert especially enjoyed writing "edgy" poems, he said, about "the underbelly of life--the junk cars, tumbledown trailers, goat pens in the front yard, and the like." In addition to being a poet, he was a lifelong gardener and devoted volunteer at many charitable, educational, and public organizations.
wordlover:
Very very clever, Bob. It's an ideal poem for showing human nature AND a big abstract subject. Winsome as can be.
Posted 08/02/2016 01:16 PM
transitions:
Loved it!
Posted 08/01/2016 05:58 PM
Jo:
What a fun poem, Robert. I really enjoyed your conversation with Jefferson--and learned a bit too.
Posted 08/01/2016 04:52 PM
jtmilford:
After appropriating peppers and peas you gave us some history and good ideas. Thanks
Posted 08/01/2016 02:39 PM
hujsaked@aol.com:
A fine poem, Robert, well crafted with its whimsical touch. I thought Jefferson preferred corn-on -the-cob to peas, though. I know I do.
Posted 08/01/2016 10:37 AM
Larry Schug:
I really like conversations with the dead in poetry. A good one makes the dead seem not so dead and the live more alive. This is a good one. The strings of time are intertwined.
Posted 08/01/2016 07:57 AM
cork:
I think the melon was under his coat making that bulge and "purloined peas" was very nice.
Posted 08/01/2016 07:53 AM
blueskies:
Visiting a chapter of history with a new spin! Reminds me of the music from Hamilton! For a poetic Broadway audience. Thanks, Robert!
Posted 08/01/2016 07:16 AM
rhonasheridan:
I enjoyed this! Great fun.
Posted 08/01/2016 04:33 AM