I knew that a baby was hid in that house,
Though I saw no cradle and heard no cry;
But the husband was tip-toeing 'round like a mouse,
And the good wife was humming a soft lullaby;
And there was a look on the face of the mother,
That I knew could mean only one thing, and no other.

The mother, I said to myself, for I knew
That the woman before me was certainly that;
And there lay in a corner a tiny cloth shoe,
And I saw on a stand such a wee little hat;
And the beard of the husband said, plain as could be,
'Two fat chubby hands have been tugging at me.'

And he took from his pocket a gay picture-book,
And a dog that could bark, if you pulled on a string;
And the wife laid them up with such a pleased look;
And I said to myself, 'There is no other thing
But a babe that could bring about all this, and so
That one thing is in hiding somewhere, I know.'

I stayed but a moment, and saw nothing more,
And heard not a sound, yet I know I was right;
What else could the shoe mean that lay on the floor,
The book and the toy, and the faces so bright;
And what made the husband as still as a mouse?
I am sure, very sure, there's a babe in that house.
This poem is in the public domain.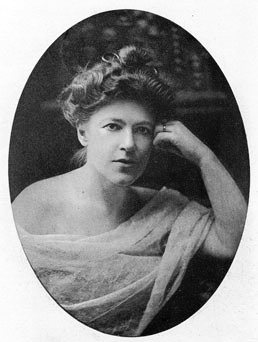 Ella Wheeler Wilcox (1850-1919) was a popular and prolific poet. Published and lauded before she even graduated from high school, Ella preferred to write happy, upbeat poetry and was much beloved for it. More than a dozen of her poems are included in the book, Best Loved Poems of the American People (Doubleday, 2008). The familiar saying, "Laugh and the world laughs with you, weep, and you weep alone. . ." comes from her best-known poem, "Solitude." A morally strong and spiritual person, Ella believed that her purpose on earth was to practice kindness and service. Read more about her here.
erinsnana:
I love this!
Posted 08/23/2016 02:50 PM
rhonasheridan:
Ella Wheeler Wilcox is always wonderful. Loved it.
Posted 08/22/2016 02:03 PM
Lori Levy:
Great!
Posted 08/22/2016 12:50 PM
KevinArnold:
Ella Wheeler Wilcox is an undervalued treasure, hidden like the babe in the house.
Posted 08/22/2016 07:13 AM
Newf:
Beautiful!
Posted 08/22/2016 03:12 AM