I fidget in the oak pew
count black neckties that strangle
tanned necks mushroomed over starched collars
still damp with the scent of Aqua Velva

count scrapes, scabs, bruises
from lace ankle socks to the knobby knees
of my pleated skirt
stand to pray
pointy patent shoes pinching my toes

listen to the garbled voice of Mr. Nachtigale
send up his prayers like bubbles
from the bottom of a murky pond
my lips move to the words
How Great Thou Art
Mother's voice shrill as a parakeet in my ear

I leaf through the onionskin pages
of Father's black Bible just to hear it rustle
Mother shushes
I lean into her soft arm
my head slides onto her polyester lap
she tucks static hair behind my ear
to expose flushed cheeks

I wait for the drone of the English sermon to end
unwrap the Scotch mint
from its Kleenex sweater
found at the bottom of Mother's purse
tuck it into my cheek
beside budding molars
pastor's voice is a German engine

wake to stand for the benediction
my mint pebble still there
just enough to sustain me
until we bow our heads again
to pray for lunch
© by Karen Klassen.
Used with the author's permission.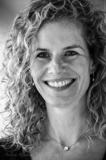 Karen Klassen was raised in Vancouver, BC by her Mennonite immigrant parents. Much of her writing has been inspired by her childhood and upbringing. Her work can be found in various journals and has also been read on CBC radio. Karen loves "beachy" holidays, puttering in the garden, and piping hot lattes. She currently lives in Kamloops, British Columbia with her husband and three children.
Dorcas:
Now, to be happy for the beginnings of faith.
Posted 09/07/2016 04:49 PM
jtmilford:
Beautifully expressed as felt and seen by a child.
Posted 09/07/2016 04:27 PM
Kathleen Carlson:
Delightful verse treasure of childhood. I almost never made it as far as the final prayer. I usually fainted from fasting and was spared.
Posted 09/07/2016 03:23 PM
barbsteff:
Let's hear it for praying for lunch! Perfect kid's point of view.
Posted 09/07/2016 11:53 AM
Lori Levy:
Beautifully expressed.
Posted 09/07/2016 11:15 AM
Michael:
Really enjoyed this poem, Karen, it captures the feelings of children AND adults as we look back and think back to days when we leaned into the soft arms of our mothers in church.
Posted 09/07/2016 10:43 AM
wordlover:
Ahhh...Karen, you nailed it--not only for Mennonite children but for kids in all Christian denominations. Best part for me: resting in Mother's lap.
Posted 09/07/2016 10:11 AM
rhonasheridan:
Hilarious! Loved it.
Posted 09/07/2016 09:27 AM
Jancan:
What a perfect, entertaining description of a kid in church! Great similes help me visualize the scene. Janice
Posted 09/07/2016 08:33 AM
KevinArnold:
Like the pastor's voice like a German engine.
Posted 09/07/2016 08:31 AM
Larry Schug:
One of my favorite poem ever on YDP and that's only after a couple readings. Excellent!
Posted 09/07/2016 07:53 AM
blueskies:
Perfect view into a child at church! Thanks, Karen.
Posted 09/07/2016 06:50 AM
Newf:
Perfect! Anyone, in any denomination can relate. Well written. I love it.
Posted 09/07/2016 05:56 AM
fuddygail:
Oh, that was delicious!
Posted 09/07/2016 02:33 AM