Cowering behind desks,
afraid of everything Elizabethan,
you cringe, terrified of thees and thous,
the uncounted horror of couplets.

Frailty, thy name is Freshman.
You think too little: such minds are dangerous.
Screw your courage to the sticking place.
Tomorrow, and tomorrow, and tomorrow
is not the time to cram three-hundred pages.

You do protest too much
of dead hard drives and grandmothers.
Hath not a teacher ears, affections, passions?
Cudgel thy brains!

If this were played upon a stage now,
I could condemn it as an improbable fiction:
Macduff, a cop-dog; Ophelia, a drink;
Mercutio, the part that makes an engine whir?
Ah, forsooth and fair speed;
get thee to a dictionary!

Alas, more in sorrow than in anger,
I herein quoth, "'twas caviar to the general";
"the patient must minister to himself."

As brevity is the soul of wit,
you are dismissed!


From True, False, None of the Above (Cascade Books, 2016).
Used here with the author's permission.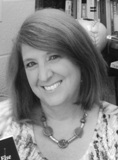 Marjorie Maddox is Professor of English and Creative Writing at Lock Haven University. At the age of 8, Marjorie published her first poem in Campfire Girls Magazine. Eleven books and six chapbooks later, she still loves writing poetry, fiction, creative nonfiction, and children's literature. Her forthcoming works include Wives' Tales (Seven Kitchens Press), her first short story collection, What She Was Saying (Fomite Press), and a middle grade biography, A Man Named Branch, the True Story of Baseball's Great Experiment (Zing!) about her great granduncle Branch Rickey, general manager of the Brooklyn Dodgers, who helped break the color barrier by signing Jackie Robinson. Learn more about Marjorie at www.marjoriemaddox.com.
pl. wick:
Ah, yes…Freshmen, with ears asleep, die many times before their finals; the studious need not taste the ultimate exam but once.
Posted 09/30/2016 09:17 PM
Jancan:
Fabulous--clever, well-written, entertaining, spot-on--in the opinion of this retired high-school English teacher! Janice
Posted 09/30/2016 01:49 PM
Jean Colonomos-1:
Jean Colonomos Serious fun! I love it.
Posted 09/30/2016 11:41 AM
Caro70:
Brilliant, Marjorie! Shakespeare is kicking up his heels!
Posted 09/30/2016 10:21 AM
ElizabethP:
Love, love this! Oh yes... I remember those students. ;-)
Posted 09/30/2016 08:43 AM
rhonasheridan:
Very clever! I loved it.
Posted 09/30/2016 07:22 AM
blueskies:
A delightful poem that so celebrates > Frailty,thy name is Freshman... Thanks, Marjorie!
Posted 09/30/2016 06:00 AM
Belinda Veldman:
Love it!
Posted 09/30/2016 05:38 AM
Katrina:
I doubted I could enjoy a parody of Shakespeare, but I do like this!
Posted 09/30/2016 02:43 AM