What began as a gift bought
for a friend, then kept,
has come to this.
A collection, over thirty
grown from one little wooden chest
filled with tiny painted toys,
hinges and corners bright brass,
opened to reveal a mirrored lid.
It still plays a tinny secular carol,
Walking in a Winter Wonderland.
That first Christmas, a solo act,
now each holiday it competes
for center stage with a packed house,
all waiting their turn.

A brigade of nutcracker soldiers
lines the mantel, water globes
crowd the coffee tables, their
bald domes glistening in tree-light.
Elsewhere, wind-up silver bells, assorted
ceramics, even a miniature sleigh.
In the kitchen, a cookie jar
sings Jingle Bells when opened.
One gift kept has swelled with gifts
received until their music is tradition
that travels back farther
then my son's memories.

This second week of January
we prepare the music boxes for storage.
Some snug in bubble wrap
or clouds of tissue paper. Others
locked tight in aging Styrofoam
which crumbles into snow.
We play each one a last time
and he kisses them goodnight
before their return to the cellar's dark.
As we carry them down, a note
or two escapes.
His eyes well up at their meek protest
but he follows me tight-lipped and brave
to tuck them in again for their long sleep.

From Miracle of the Wine: New and Selected Poems (Grayson Books, 2012). 
Used with the author's permission.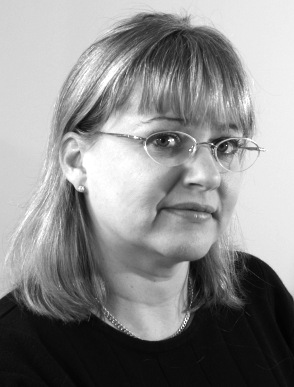 Kathe L. Palka's latest book of free verse is Miracle of the Wine: New and Selected Poems (Grayson Books, 2012). She is a member of the U.S. 1 Poets' Cooperative and the Haiku Poets of the Garden State. Kathe also writes in the Japanese forms of haiku and tanka and won a Snapshot Press 2011 eChapbook Award for her short tanka collection, As the Years Pass. She and Peter Newton are currently assembling a collection of their work in the collaborative form of tan renga, which they hope to publish in 2015. Kathe lives near Flemington, New Jersey, with her husband and their two sons. An avid gardener, she enjoys wandering the parklands of her native state whenever time permits. Learn more about her at www.kathepalka.com, at her Haiku Foundation web page or from her Poet's Profile here on YDP.
Dorcas:
Thank you. If only the beginnings of a white and candid tradition could remain though seasons change and true enough, have their own traditions. This is a lovely poem.
Posted 01/09/2015 10:28 AM
daswan2:
This poem is a wonderful and fitting accolade to tuck the season away for another year. Beautifully done!
Posted 01/09/2015 10:05 AM
vscholtz:
Beautiful imagery. Thanks.
Posted 01/09/2015 07:02 AM