Intellect doomed me
to be an indoor person,
pacing in front of classrooms,
encouraging thought beyond
what appears on the page.
This is my stage, my loading dock,
my spot on the academic assembly line,
the place where I share my passions
whenever the curriculum allows.
It is the meeting place for
disparate generations,
old school and new,
taking shots across the bows,
then texting back replies.
Waning attention spans
focus on grade point averages
that someone somewhere
convinced them can be negotiated.
I dissuade them of that notion,
instead encouraging improvement
of skills by which to earn
credits enough to avoid
that slippery slope
of complaint and confusion.
This is the age of enabled winners,
coddled and boosted up
to dizzying heights, and I am
the town crier, announcing
the harsh reality in red pen
late at night over essays
that invite analysis
beyond formulaic response.
This is no world for the weak,
but effort goes a long way
toward sharpening
that serpent's tooth
into an eventual appreciation
of why literature matters
and a someday gratitude
for all this indoor effort.
© by Gary Glauber.
Used with the author's permission.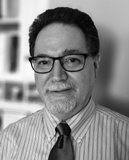 Gary Glauber is a poet, fiction writer, teacher, and former music journalist whose work has received multiple Pushcart Prize and Best of the Net nominations. He is the author of two books. Gary champions the underdog and enjoys composing while listening to obscure power pop music.
Larry Schug:
As a volunteer writing tutor, I appreciate the wisdom and advice passed along in this poem. Hey, and it's a good poem on its own, too
Posted 10/20/2016 10:39 AM
barbsteff:
Very well stated! Kudos to those who stay in the trenches, teaching what the students don't want to learn.
Posted 10/20/2016 09:44 AM
Michael:
Well said, Gary. Appreciate your wise insight.
Posted 10/20/2016 09:33 AM
Walcottjm:
Thank you for this sharp, smart poem. I recently retired from doing just this.
Posted 10/20/2016 08:39 AM
dominicpetrillo:
I am a teacher and you sure have nailed it! Thanks Gary
Posted 10/20/2016 08:38 AM
blueskies:
A razor-sharp window into the challenges many teachers face in present day classrooms. Outstanding gathering of words & hopes. Thanks, Gary.
Posted 10/20/2016 07:03 AM
Newf:
I am not a teacher but I love words. We need teachers like this. Literature & math were my favourite subjects (backnin the dark ages)Great poem to be read more than once, thank you
Posted 10/20/2016 03:27 AM
Belinda Veldman:
Nice :-)
Posted 10/20/2016 03:24 AM