When the corn's all cut and the bright stalks shine
Like the burnished spears of a field of gold;
When the field-mice rich on the nubbins dine,
And the frost comes white and the wind blows cold;
Then it's heigho! fellows and hi-diddle-diddle,
For the time is ripe for the corn-stalk fiddle.

And you take a stalk that is straight and long,
With an expert eye to its worthy points,
And you think of the bubbling strains of song
That are bound between its pithy joints--
Then you cut out strings, with a bridge in the middle,
With a corn-stalk bow for a corn-stalk fiddle.

Then the strains that grow as you draw the bow
O'er the yielding strings with a practised hand!
And the music's flow never loud but low
Is the concert note of a fairy band.
Oh, your dainty songs are a misty riddle
To the simple sweets of the corn-stalk fiddle.

When the eve comes on, and our work is done,
And the sun drops down with a tender glance,
With their hearts all prime for the harmless fun,
Come the neighbor girls for the evening's dance,
And they wait for the well-known twist and twiddle--
More time than tune--from the corn-stalk fiddle.

Then brother Jabez takes the bow,
While Ned stands off with Susan Bland,
Then Henry stops by Milly Snow,
And John takes Nellie Jones's hand,
While I pair off with Mandy Biddle,
And scrape, scrape, scrape goes the corn-stalk fiddle.

"Salute your partners," comes the call,
"All join hands and circle round,"
"Grand train back," and "Balance all,"
Footsteps lightly spurn the ground.
"Take your lady and balance down the middle"
To the merry strains of the corn-stalk fiddle.

So the night goes on and the dance is o'er,
And the merry girls are homeward gone,
But I see it all in my sleep once more,
And I dream till the very break of dawn
Of an impish dance on a red-hot griddle
To the screech and scrape of a corn-stalk fiddle.

This poem is in the public domain.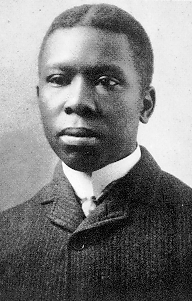 Paul Laurence Dunbar (1872-1906) was from Ohio. He wrote his first poem at the age of six, was editor of his high school newspaper, and published his first book at twenty. His writing attracted attention from the very beginning, and Paul became well-known in both America and around the world. Like James Whitcomb Riley, who was a fan of his young contemporary's work, Paul wrote many of his poems in dialect. Besides a dozen books of poetry, Paul wrote four short story collections, five novels, a play, and the first Broadway musical ever written and performed by African-Americans. A tremendously successful poet whose work was being published in all the major literary publications of his day, Paul's life was cut tragically short by tuberculosis.
JanetruthMartin:
Another delightful poem. i love this poet!
Posted 10/30/2016 09:01 AM
Newf:
Barbsreff - look it up. You will find instructions for making one. Just re-read. This is the best poem, it's really a song. Yes, Kathleen you can see that dance,
Posted 10/29/2016 11:26 PM
Kathleen Carlson:
What a delight! The rhythms and rhymes get into your head so you can hear the music, see the dancers, and want to join the fun! Read it aloud and dance!
Posted 10/29/2016 04:16 PM
barbsteff:
Delightful rhyme and rhythm! Is there really such a thing as a corn stalk fiddle, carved out off a corn stalk with "strings" kept intact?
Posted 10/29/2016 12:32 PM
joecot:
Thanks for introducing me to this wonderful poet. And I see in the archives you've previously posted a dozen more of his works! What a discovery. What a pleasure.
Posted 10/29/2016 10:48 AM
blueskies:
Pure glee!
Posted 10/29/2016 10:08 AM
Jancan:
What a GREAT poet Dunbar was! This was a wonderful choice for the day! Janice
Posted 10/29/2016 09:20 AM
Katrina:
I like the way Dunbar appears to share his heart beat.
Posted 10/29/2016 07:47 AM
Larry Schug:
Somebody's got to put this poem to music!
Posted 10/29/2016 07:32 AM
Sarah Russell:
I had never heard of Dunbar. Goggled his longer bio. An outstanding man ahead of his time, friend of the Wright brothers and famous poets of the day, inspiration for Angelou's "caged bird" references, an amazing, if sad, life story. Thanks for the introduction, Jayne!
Posted 10/29/2016 06:38 AM