I who have long studied life
and not my own alone
am still surprised to arrive
here in my seventieth year.
I donít feel old
or young, or even middle-aged,
just myself rolling along
with the odd ache and pain
and a crate full of memories.
Walking round the block
the other day, I felt so fine
I wanted to kick up my heels
I mean literally, and so I did.
Not a high kick
but I did click my shoes
and didnít land face first.
We laughed knowing
none of the neighbors
who see us on our daily walks
would ever dream
such a friendly old dear
could have such a wish
and do it, right there on the street.
Then on we went, chuckling
in that tender between us way
that is a fruit of our aging
but still doesnít mean I feel old.
†
© by Signe Eklund Schaefer.††††
Used with the authorís permission.
†
†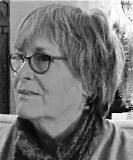 Signe Eklund Schaefer is the author of three books and her articles and poems have appeared in numerous anthologies and journals. Always a lover of words, she more or less abandoned writing poetry, though, except for celebratory family ditties, at midlife. Those were the years of making a home amidst a lot of moving, teaching adults, writing some prose, and wondering at the mysteries of human development. Now retired, Signe has re-discovered the joy of inviting poems to express daily moments and memories. She lives in western Massachusetts with her husband of almost 50 years and is preparing her first chapbook.

Donal Mahoney:
I remember 70 and there were days then when I'd wake up feeling like James Brown, feelin' good. Today I feel more like Tony Bennett. Fine poem.
Posted 11/13/2016 01:32 PM
Jo:
I had to try "kicking my heals"-- It's harder than I thought. Thank you for the neat poem.
Posted 11/10/2016 08:05 PM
rosiholl:
This is great. Thanks for the day brightener, Jayne!
Posted 11/10/2016 11:46 AM
KevinArnold:
Glad Signe didn't land face first for sure.
Posted 11/10/2016 08:25 AM
Sherry:
Love it! So much truth in this poem for all of us.
Posted 11/10/2016 08:21 AM
Larry Schug:
Right on, Signe! Here's to us! I like to think of myself as terminally immature. Also, kudos on writing a fine poem.
Posted 11/10/2016 07:54 AM
JanetruthMartin:
thank-you for this 'smile' of pure joy!
Posted 11/10/2016 07:42 AM
blueskies:
Great tribute & honor to the 70th milestone. Celebrating my 70th this year. Shall add kick-up-my-heels to the party! Thanks so much Signe.
Posted 11/10/2016 07:32 AM
Newf:
Here's to us oldies. Yaaaay!
Posted 11/10/2016 07:04 AM
Jean :D:
Ditto to both Newf and rhonasheridan from an 81 yr. old who walks, (but isn't able to click,) every day!
Posted 11/10/2016 06:59 AM
Newf:
I'm in my 80th year. I can relate to this poem. That person in the mirror is not me. I'm young. Here's to many more years. Lovely poem, well expressed. Thank You Signe and thank you Jayne. This really made my morning.
Posted 11/10/2016 06:38 AM
rhonasheridan:
Click away! You won't be old for years yet! I can guarantee it! Lovely poem.
Posted 11/10/2016 04:35 AM