I walk the stream each autumn,
disrupt the clumps of alder leaves,
the windsplit tangle of branches
that fell in the night,
the wash of Spanish moss.
I'm here for the watersong, the forgetting.
I leave the ghosts, my familiars,
watch the small rivulets
move from the high ground
to feed this stream,
that feeds me every autumn.
This bright feast. This lost music.
© by Wendy Morton.
Used with the author's permission.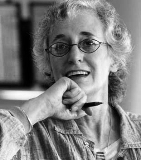 Wendy Morton, a retired insurance investigator, is the author of six books of poetry, a memoir--Six Impossible Things Before Breakfast--in which her adventures as a corporate sponsored poet are revealed, and a set of poetry postcards. Founder of Canada's Random Acts of Poetry project, she recently received a Meritorious Service Medal for her work with The Elder Project. Wendy lives in Sooke, British Columbia. Learn more about her here.
rhonasheridan:
Such a beautiful poem.
Posted 11/20/2016 01:31 AM
Jo:
What a lovely poem, Wendy. Thank you.
Posted 11/19/2016 08:22 PM
Michael:
Dear Wendy, I read this near the end of my day--what a gentle closure--this poem is a treasure. Thank you.
Posted 11/19/2016 05:55 PM
transitions:
Everytime I see her name I know the poem will be great. Love the last line, just gorgeous...
Posted 11/19/2016 01:44 PM
ghctenmile@earthlink.net:
My goodness! This is lovely. Thanks, Wendy.
Posted 11/19/2016 10:26 AM
Lori Levy:
Beautiful!
Posted 11/19/2016 09:37 AM
paradea:
This is beautiful!!
Posted 11/19/2016 09:20 AM
Janet Leahy:
How lovely to find the "lost music," just what we need in our lives today.
Posted 11/19/2016 09:19 AM
Glen Sorestad:
Lovely, Wendy! A great way to start the morning, walking with you.
Posted 11/19/2016 07:47 AM
kohler@technest.org:
This is a beautiful piece. What a pleasure to read this on this pristine autumn morning.
Posted 11/19/2016 07:27 AM
mimi:
lovely, Wendy, as always, thanks for this moment of tranquility... Sharon Auberle
Posted 11/19/2016 07:08 AM