Life has loveliness to sell,
All beautiful and splendid things,
Blue waves whitened on a cliff,
Soaring fire that sways and sings,
And children's faces looking up
Holding wonder like a cup.

Life has loveliness to sell,
Music like a curve of gold,
Scent of pine trees in the rain,
Eyes that love you, arms that hold,
And for your spirit's still delight,
Holy thoughts that star the night.

Spend all you have for loveliness,
Buy it and never count the cost;
For one white singing hour of peace
Count many a year of strife well lost,
And for a breath of ecstasy
Give all you have been, or could be.
This poem is in the public domain.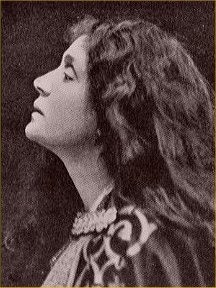 Sara Teasdale (1884 - 1933) was a Missouri-born poet afflicted with poor health from birth. She loved one man but married another, divorced, lost her best friend to suicide, and eventually committed suicide herself. Ironically, a majority of her poems are about love and beauty, and she won the first Pulitzer Prize for poetry in 1918. There are some similarities to be drawn between Sara and Emily Dickinson; both were reclusive, both wrote intensely personal poetry that frequently focused on nature, both knew unrequited love.
Sherry:
Teasdale's lines are gorgeous. I love this poem, but my all-time favorite by Teasdale is "In a Restaurant." That poem seems especially appropriate for Christmas.
Posted 11/26/2016 09:07 AM
ghctenmile@earthlink.net:
Thanks for posting this today, Jayne. Happy Thanksgiving greetings to you who do so much for "your" poets every day of the year. Love, Grace
Posted 11/24/2016 02:22 PM
blueskies:
Stunning & so perfect for today! Many thanks & blessings, Jayne.
Posted 11/24/2016 11:20 AM
Jancan:
Absolutely BEAUTIFUL! Makes me smile and say "Ahhh! Janice
Posted 11/24/2016 10:59 AM
KevinArnold:
Yes for a thanksgiving poem yes.
Posted 11/24/2016 09:51 AM
mjorlock:
Thanks, Jayne. Hope you have a terrific Thanksgiving.
Posted 11/24/2016 08:01 AM
Katrina:
This is a great introduction to Sara Teasdale.
Posted 11/24/2016 05:10 AM
r1manchester:
I don't think Ms.Teasdale ever wrote a "bad" poem, but this is lovely...and especially poignant given the circumstances of her life. Thanks Jayne.
Posted 11/24/2016 04:09 AM