Of each of seven days I live each week,
I must admit I love the Monday best
because it offers me a chance to tweak
my schedules after lazy weekend rest.

Consider all the faults and all the fears
that marked those precious misplaced days now gone
and don't waste time on pointless grieving tears
when Monday gives anew a chance for song.

It is the sunrise of my seven days,
and brings a brightness full of life and hope
which fills my heart and mind in special ways
with strength so I'll not fear to strive and cope.

When I awaken every Monday morn,
I feel that I have surely been reborn.
© by C. F. Kelly.
Used here with the author's permission.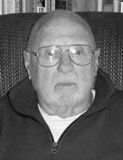 Cornelius Farrell Kelly wrote his first poem at age 12 when he fell in love with the girl across the street and put his work in her mailbox. She showed it to all of the neighbors, and Cornelius became the poet laureate of his block. Influenced early on by the poetry of Edgar Guest, Cornelius is the author of eight chapbooks, is involved with several poetry organizations, and publishes regularly. He is also a competitive swimmer. Cornelius lives in Pinedale, Wyoming.
transitions:
My favorite day too. Nice, thx :)
Posted 11/28/2016 05:26 PM
David:
An uplifting look at Mondays. Thanks!
Posted 11/28/2016 10:32 AM
Jean Colonomos-1:
Jean I like this alternate version of Monday. Perks me up.
Posted 11/28/2016 09:52 AM
Lori Levy:
Glad to know there's someone who likes Mondays and considers it "the sunrise of my seven days"!
Posted 11/28/2016 09:20 AM