Every morning I am glad to wake
to the light through the slats,
the gift of sun still there,
that great friend in the heavens
bringing warmth to the dawning.
It's time to stand up and see,
to shake off the stiffness of night,
to lift my dog from the bed,
time to start coffee and go outside,
gather the paper and look at the mountains;
to welcome the grace of more hours
when perhaps nothing will happen,
though we might be blessed,
tumble into some new scent or flower,
find something that penetrates
to such a living depth inside
that we would never want to forget;
both of us happy and grateful
for another day on our planet.
© by Michael Bourgo.
Used with the author's permission.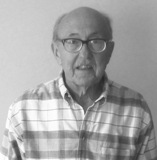 Michael Bourgo lives in Boalsburg, Pennsylavania. After 34 years in business he discovered, in retirement, that his real vocation was writing. After concentrating most of his energies on verse for a number of years, he is now also writing a memoir of his childhood. Michael recently taught a poetry course for the Penn State lifelong learning program and led a writing workshop for the state poetry society.
Edel:
Michael has such a gift for showing the world how to be grateful for everything, from the mundane to the majestic. Thank you, Michael. Beautifully painted.
Posted 12/13/2016 07:10 PM
njc:
This is one of those rare poems that gets better with each reading. Thank you.
Posted 11/30/2016 03:56 PM
ElizabethP:
I really like this. Great word picture. I can almost smell that new scent. Thank you.
Posted 11/30/2016 08:43 AM
Jancan:
Lovely morning poem--describes how we should feel every day! Janice
Posted 11/30/2016 08:31 AM
jtoyokawa:
Lovely poem Dad. I am grateful for you each day and the mountain views that you mention.
Posted 11/30/2016 08:31 AM
JanetruthMartin:
Jayne, I LOVE gratitude poems:) this is another beaut...a glad-to-be-alive tribute! I esp. love this line "to welcome the grace of more hours"
Posted 11/30/2016 07:31 AM
blueskies:
Well stated in poetic verse.The majesty of gratitude! Thanks, Michael.
Posted 11/30/2016 06:38 AM
Sarah Russell:
Great poem, Michael. Thank you.
Posted 11/30/2016 05:46 AM