are what we want,
thick as the blisters
stacked beneath our sneakers.

And newspapers
sprawled provocatively across clean sheets.

Give us beer
for the can opener in the bathroom,
gossip for the in-room fax,
touch-tone fingers for the sixty-plus
channels of cable
deliciously at our command. 

Let every tour
dine in castles without us,
dance the pre-paid waltz
beside the postcard Danube.

We are in love
with room service at midnight,
with minature soaps, whirlpools,
eternal hot water, the overwhelming,
seductive allure of terry.

From Local News from Someplace Else (Wipf and Stock, 2013).
Used here with the author's permission.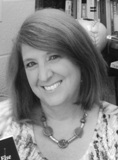 Marjorie Maddox is Professor of English and Creative Writing at Lock Haven University. At the age of 8, Marjorie published her first poem in Campfire Girls Magazine. Eleven books and six chapbooks later, she still loves writing poetry, fiction, creative nonfiction, and children's literature. Her forthcoming works include Wives' Tales (Seven Kitchens Press), her first short story collection, What She Was Saying (Fomite Press), and a middle grade biography, A Man Named Branch, the True Story of Baseball's Great Experiment (Zing!) about her great granduncle Branch Rickey, general manager of the Brooklyn Dodgers, who helped break the color barrier by signing Jackie Robinson. Learn more about Marjorie at www.marjoriemaddox.com.
rhonasheridan:
Another 'spot on'!
Posted 12/21/2016 09:19 AM
blueskies:
Delightful & delicious fun. Thanks,Majorie.
Posted 12/20/2016 04:14 PM
mmaddoxh:
Thank you! May we all enjoy such relaxation soon!
Posted 12/20/2016 12:06 PM
Ronaccount:
Spot on positive piece on the enjoyment of temporary housing. Thank you
Posted 12/20/2016 10:17 AM
Caro70:
You nailed it, Marjorie! As a former business traveler, I loved the quiet solitude of room service after a day of dealing with people. Well done!
Posted 12/20/2016 09:31 AM
KevinArnold:
The art of saying things on the slant. So well constructed--using the title as part of the poem so as to not waste any time starting up and just keeps rolling. A fresh voice. Brava!
Posted 12/20/2016 09:31 AM
Michael:
Dear Marjorie, Delightful piece! It captures much of what we "feel" this time of year. I've spent many a holiday in hotels visiting my children when their apartments were too small to put us up! Thank you.
Posted 12/20/2016 09:08 AM
Katrina:
Gratefully absorbed.
Posted 12/20/2016 06:06 AM