I fixed a peach for you, he says, coming in
to wake me. I know that at the table bowl and plate
await me, sit royally on the blue mat,

knife and spoon in place. The rich aroma of coffee
follows him down the hall. I push the covers back, thrust
my feet into padded slippers, paddle to the kitchen.

We sit behind our papers in unspoken truce, broken
only by the click of the microwave door. While his coffee
heats again, he kisses me,

microwave kisses and the toot of his horn at the foot
of the driveway, Often I peer through shutter slats
to watch him drive away, linger

on the front porch to wave goodbye, happy
to have ended up after all these years
breakfasting with Jack.
From The Fringes of Hollywood (Jacaranda Press).
Used with the author's permission.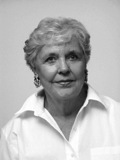 Mary Lou Taylor tried three other majors before settling on English. A teacher off and on for many years, she got serious about writing poetry after she retired. Author of one book and published in several journals and anthologies, she has a second book in the works and has proven retirement to be the myth it so often is by continuing to teach a few writing and poetry classes. Learn more about Mary Lou, who lives in Saratoga, California, at www.maryloutaylor.wordpress.com.
KevinArnold:
I like the way the unexpected line endings , linger / and , happy / play off one another. An unexpected craftiness.
Posted 02/05/2017 09:38 AM
blueskies:
Filled to the brim---with Glee! Thanks Mary Lou.
Posted 02/03/2017 05:31 PM
barbsteff:
Nice use of detail. I rarely have seen need to peel a grapefruit! Just cut in half and eat with a grapefruit spoon. Of course the poem presents a prepared peach.
Posted 02/03/2017 03:39 PM
Lori Levy:
Love the way simple language is used to express something powerful.
Posted 02/03/2017 09:58 AM
Larry Schug:
It's the small moments that are the largest. Nicely conveyed!
Posted 02/03/2017 07:18 AM
Katrina:
I like this.
Posted 02/03/2017 02:57 AM