A Love Poem
Einstein
must have had us
in mind when he
contemplated
calculated
articulated
a theory of entwined beings
so hopelessly entangled
each in the other
even the senseless-
ness of space
can't efface
the effect one thing has
on its other.

I like to think of us
as Einstein might have
imagined us
two sentient
atomic particles
inextricably linked
regardless of distance
and time:

I itch
you scratch
you reason
I rhyme.


© by Mike Orlock.
Used with the author's permission.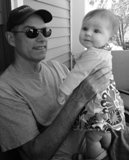 Mike Orlock is a retired high school English and American History teacher who splits time between the Chicago suburbs and a vacation home in Sturgeon Bay, Wisconsin. He has been married for 40 years to his high school sweetheart and inspiration, Liz, and greatly enjoys being grandfather to four beautiful little girls. Mike's short stories, poems, and reviews have appeared in a variety of publications and he was a Jade Ring winner in a contest sponsored by the Wisconsin Writers Association.
rhonasheridan:
I loved this poem. It is so full of everything good.
Posted 02/07/2017 03:39 PM
r1manchester:
Mike, nifty, nifty mix of science, love and words...xcelent!
Posted 02/06/2017 12:50 PM
paradea:
Nice one!!!
Posted 02/06/2017 10:52 AM
Lori Levy:
Especially like the last stanza.
Posted 02/06/2017 10:22 AM
Michael:
Well-done, Mike!
Posted 02/06/2017 10:17 AM
barbsteff:
Love the last two lines!
Posted 02/06/2017 10:12 AM
Linda Anger:
I think this is the best poem I've ever read via YPD. Simply magnificent!
Posted 02/06/2017 09:31 AM
marilynfleming:
I love this poem. Kudos to you
Posted 02/06/2017 09:10 AM
Sharon Waller Knutson:
I love this poem. It is witty, charming and delightful. Even my Einstein got it.
Posted 02/06/2017 08:07 AM
Gilbert Allen:
A lovely poem--witty and tender, in equal measure.
Posted 02/06/2017 07:21 AM
mimi:
sweet and quirky love poem--great!
Posted 02/06/2017 07:17 AM
JanetruthMartin:
We're heading toward the big 30!! I agree with Paula's comment! Mike's writing is always a poetic treat!another gem.
Posted 02/06/2017 06:12 AM
paula:
Nice! We are married 39 years. Let's hear it for long marriages and great poems that celebrate them.
Posted 02/06/2017 05:46 AM
Katrina:
I love the breakdown of stimulus (to me) and response (to you). It really portrays a union.
Posted 02/06/2017 05:40 AM
phebe.davidson@gmail.com:
Spot on!
Posted 02/06/2017 05:33 AM
vscholtz:
Thanks, Mike. Your poem arrived just after I received an email about some obscure black hole physics. It is the perfect antidote to too much abstract cleverness.
Posted 02/06/2017 05:28 AM