Long, lovely, liquid, glorious
Is your hair, and lustrous,
Scented with summertime.
Beware when you are combing it,
In the nights and mornings,
Shaking its splendor out.
I bid you comb it carefully,
For my soul is caught there,
Wound in the web of it.
From Flagons and Apples (Grafton Publishing, 1912).
This poem is in the public domain.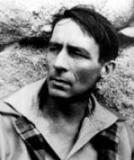 Robinson Jeffers (1887 – 1962) was born in Pittsburgh, Pennsylvania, but moved with his family to California as a young teen. Studying first literature, then medicine, then forestry, a small inheritance finally allowed Robinson to turn his attention to poetry, with a side occupation as a stonemason. As a committed outdoorsman, much of Robinson's work centered around the wild beauty of nature.
SAR2126:
I love the education that you provide -- for some reason I can't imagine, I had not heard of Jeffers. Thank you
Posted 02/23/2017 10:13 AM
KevinArnold:
Wonderful--thanks for posting. Jeffers is a local favorite but I'd missed this one. très romantique.
Posted 02/23/2017 08:40 AM
blueskies:
Shall be reading more from Jefferson. Stunning glimpse into a soul who loves deeply. Thanks,Jayne.
Posted 02/23/2017 07:37 AM
Larry Schug:
What a cool surprise at the end of this poem!
Posted 02/23/2017 07:17 AM