We like March, his shoes are purple.
He is new and high;
Makes he mud for Dog and Peddler,
Makes he forests dry.
Knows the Adder's Tongue his coming
And begets her spot.
Stands the Sun so close and mighty
That our Minds are hot.
News is he of all the others;
Bold it were to die
With the Blue Birds buccaneering
On his British sky.
This poem is in the public domain.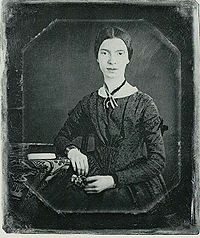 Emily Dickinson (1830 – 1886) is considered a major American poet, though she was not accorded this honor until well after her death, when her younger sister discovered and began to share the enormous body of work that Emily left behind. A recluse who almost always wore white, Emily was born to a prominent Massachusetts family and spent the bulk of her life inside her home in Amherst. Only seven of her poems were published during her lifetime, and virtually none were published as originally written until the mid 1950s. (Emily's odd punctuation, capitalization, and formatting did not meet with standard publishing "approval" for earlier editions.) There is a whimsical nature to many of her poems, although the subject of death was the most frequent recurring theme.
transitions:
Awe - some and all. Loved the handwritten note too, thanks. Not a favorite month but Miss Emily has me re-thinking that! Judy
Posted 03/06/2017 02:03 PM
Michael:
Wonderful post Jayne of Dickinson's hand-written version as well as the published version. Her subtle, delicate, technique provides we lesser poets with a virtual education! Thank you.
Posted 03/06/2017 12:52 PM
Jancan:
I thoroughly enjoyed this lovely little Emily poem--which I read with my itchy, weepy eyes. Achooo! Thanks, Jayne! Janice
Posted 03/06/2017 08:14 AM
blueskies:
Bravo, Emily! Bravo, March! Thanks Jayne. Fascinating to see her script.
Posted 03/06/2017 06:48 AM
rhonasheridan:
Read it several times and then loved it! But it took a bit of reading.
Posted 03/06/2017 04:15 AM
Katrina:
This is an interesting variation from Dickinson's usual Common Meter, using eight and five syllable lines.
Posted 03/06/2017 03:20 AM