I told the Sun that I was glad,
I'm sure I don't know why;
Somehow the pleasant way he had
Of shining in the sky,
Just put a notion in my head
That wouldn't it be fun
If, walking on the hill, I said
"I'm happy" to the Sun.
This poem is in the public domain.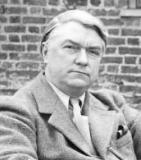 John Drinkwater (1882 - 1937) was an English poet, playwright, and actor. Working first as an insurance clerk and then as a theatre manager, John wrote actively in a variety of genres throughout his life. Besides being part of a literary group whose members included Robert Frost, John wrote a number of successful plays based on the lives of historical figures. Learn more about him at www.johndrinkwater.org.
kamleshchugh25@yahoo.com:
Q4. How does Drinkwater evoke the sympathy of the reader for the vagabond?
Posted 04/01/2019 09:31 AM
princy:
Awesome poetry I had never heard before.
Posted 05/24/2017 10:42 AM
princy:
Awesome poetry I had never heard before.
Posted 05/24/2017 10:40 AM
blueskies:
Simple & stunning beauty. Cloaked as a poem. Thanks, John & Jayne.
Posted 03/10/2017 03:35 PM
barbsteff:
While sun in shining here, wind chill is about 4ยบ F. So, good to thing about warmth with the sun. It will happen one day.
Posted 03/10/2017 02:49 PM
suzanne:
It's snowing where I am today. This poem made me smile.
Posted 03/10/2017 09:00 AM
Katrina:
I worship the Sun.
Posted 03/10/2017 08:44 AM
cork:
The sun in March will bring a happy thaw.
Posted 03/10/2017 08:41 AM
Laurenepersons:
Some poems just make you smile. This one does :)
Posted 03/10/2017 08:40 AM
MLove:
I absolutely love this. Thanks!
Posted 03/10/2017 08:39 AM
carel:
Happy thought on this sunny day...
Posted 03/10/2017 07:43 AM